Pics and Stories from Our 2009 Kenya Trip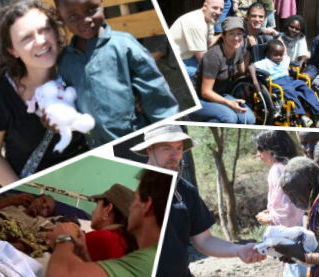 In July of 2009, my wife Jennifer and I spent a week in Nakuru, Kenya with our friends Joseph and Molly Bail who built and operate the Springs of Hope Kenya orphanage. We got to meet some amazing people and got a glimpse into what their lives are like.
As I write this on April 19, 2011 almost 2 years have passed. We are preparing to make another trip to Kenya this summer with a team from our church. As we've been doing that, a lot of people have been asking what we'll be doing while in Kenya. I've found one of the best ways to explain what we will be doing is to show pictures and retell stories from our previous trip.
Pre Trip: Take Nothing for Granted. A million things can go wrong on a trip like this. Don't underestimate the importance of prayer.
Day 1: We Made It! Our trip from Tampa to Detroit to Amsterdam to Nairobi to Nakuru went off without any problems. Yeah!
Day 2: A Tour of the Bails. We stayed at the home of our friends Joseph and Molly Bail. The living conditions, security, weather, and view – none of them are probably what you envision when you think of Kenya.
Day 3: A Typical Day for Us. On our first full day in Kenya we delivered a wheel chair to an 8 year boy with spina bifida and is unable to walk, toured the nearly complete Springs of Hope Kenya orphanage, and met a group of boys who live on the streets of Nakuru.
Day 4: Intense. We began our day by visiting a public school in Nakuru, bringing the kids shoes and soccer balls. We arrived on the scene of an accident where a 6 year old girl was lying in the street after being hit by a car. From there we went to the local hospital where we talked and prayed with people dying of AIDS and shared candy, coloring books, and smiles with sick and injured children.
Day 5: The Beautiful and the Not So Beautiful. We began the day visiting a community of people living at a landfill where adults, children, and their live stock spend their day picking through the garbage to survive. Conditions are hard to fathom, but these are real people with hopes and dreams just like we have. Later we had a chance to take in some beautiful scenery at Lake Elementaita and the Menengai Crater.
Day 6: Amazing Community. We drove to the rural community of Kabarak where a new church which also serves as a preschool and community center is beginning to transform the community from one of despair to one of hope. We helped the children make bracelets and taught them how the colors represent the good news of Jesus. That evening we enjoyed an authentic Kenyan dinner with friends.
Day 7: Safari. After 4 very challenging but rewarding days, we took a day to enjoy the sights at Nakuru National Park. We saw zebra, buffalo, rhinos, giraffe, baboons, lots of birds, and many other kinds of animals, but seeing one very reclusive cat really made our day.
Day 8: Drought in East Pokot. We made a long, hot, dusty, bumpy ride to the Cana Girls Rescue Home where a pastor and his wife have taken in 50 girls who have escaped female circumcision and forced marriage.
Post Trip: We're Back! Now What? Reflections on Kenya, the trip, and how it changed us.