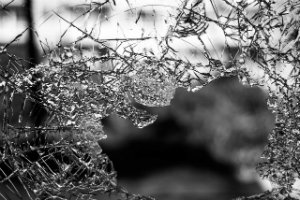 Monday, I posted my review of Pete Wilson's new book Plan B.  The book addresses the questions…
What do you do when your dreams are shattered?
What do you do when your life isn't turning out the way you thought?
Chances are you've had at least one dream shattered.  It happens to all of us.  Have you ever had someone close to you die?  Faced a health crisis?  Been fired from a job?  Found yourself in jail?  Had the marriage you thought would last a life time come to a heart-breaking end?  Then you know what I'm talking about.
Usually, when our dreams have been shattered, we cry out with one big question…
WHY?
That's because we assume that things in life are supposed to work out.  That's especially true if you work hard, are nice to people, treat people fairly, and try to follow God.
Unfortunately, in our quest to make sense of our shattered dreams we often deceive ourselves with mythical explanations.  I thought it would be worth looking at 5 misconceptions people often have about shattered dreams.
5 Myths about Shattered Dreams
1) God is mad at me. Sometimes we believe that because we've done some things that were wrong in our past that God hates us.  He has shattered our dreams because he is mad at us.  This just is not true.  God loves you.  We've all done things that are wrong, and he wants to forgive us.  If Jesus could have mercy on the woman caught in an affair, the thief on the cross, and the very people who crucified him, he is not going to hold a grudge against you.
2) God has abandoned me. When our dream has been shattered it's very easy to feel like God has abandoned us.  But the bible tells us otherwise.  "I will never  leave you, nor forsake you." Hebrews 13:5. "Nothing can separate us from the love of God." Romans 8:39  Sometimes this can be difficult to do, but it's important to choose to believe the truth of the Bible rather than our feelings.
3) I mis-heard God's leading. Sometimes when we fail at something, we start to second guess whether we should have been pursuing it in the first place. When a new business goes bankrupt we may wonder whether God really was leading us to start it.  When a ministry fizzles out, we may question whether it was really God who led us to start it.  Certainly when our plans blow up there is a place for reflecting on our motivations.  And I think if we're honest, most of us would admit that some of our dreams have been motivated by self-interest.
However, just because God calls us to do something doesn't mean it will turn out the way we envisioned it.  And to turn it around, just because something didn't turn out the way we envisioned it, doesn't mean God didn't lead us to that place. God called Moses out of Egypt but he ended up in the desert for decades.  God called Paul to preach the gospel all over the Mediterranean, but he was frequently beaten and thrown out of town.  And in the ultimate example, God called Jesus to return to Jerusalem where he was arrested, beaten, and killed.  They didn't mis-hear God's leading.
4) I let God down. Similar to #3, sometimes when an effort appears to fail and a dream dies we blame ourselves for the outcome.  God gave us the dream, so we assume God must have wanted the outcome we envisioned.  And if God was working towards that outcome, it must have been something we did (or didn't do) that messed things up.
Well, we certainly are good at messing things up, so we shouldn't completely overlook this possibility.  It is appropriate to look back and see if there was something we should have done differently.  But if you did things with honesty and integrity, worked hard, and make the best decisions you could, then you did all you could.   I think sometimes we assume we have a lot more control than we really do.  If God really wanted the outcome you had in mind, he could have made it happen.  He works around our short-comings and limited perspective all the time.
5) There's a reason for everything (that we can know). When dreams are shattered the cliché thing to say is, "I believe there's a reason for everything."  There's a lot of truth in that.  God is certainly at work in our shattered dreams.  Romans 8:28 says "we know that in all things God works for the good of those who love him, who have been called according to his purpose."
Where I think we sometimes get off track is in trying to figure out God's reasons for everything that happens.  We certainly should pray and seek to understand what God might be doing, but the truth is we may not be able to see what God was doing for many years.  And with some situations, we just won't know the reason this side of heaven.  It's important to accept that we won't understand everything God is doing and  trust in his character – his love, his kindness, his faithfulness.  When we trust in his character, we choose to believe that God is up to something good even in the midst of our shattered dreams.
Have you ever found yourself believing one of these myths when it really wasn't true?