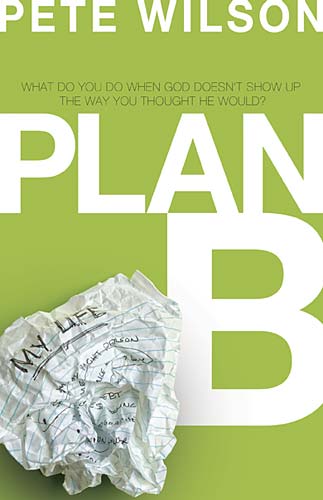 Plan B by Pete Wilson addresses the question in its subtitle, "What do you do when God doesn't show up the way you thought he would?"  Pete Wilson is pastor of Cross Point Church, a large Christian Church in Nashville, TN.  If you've ever had a "Plan A" come crashing down – perhaps a loved one died, you dealt with a series illness, your spouse left you, you got fired – perhaps you've wondered, "How could God let this happen?"  Pete Wilson addresses this question from a biblical and personal perspective.
To be completely up front with you, I've only read 75% of the book at this time.  The publisher's (Thomas Nelson's) deal was in exchange for a free copy of the book, a review had to be published today.  Knee surgery and 2 weeks of Percocet and physical therapy have forced me to go to plan b with Plan B.  So, unfortunately, I'm not able to do as thorough a review as I would like.
From what I've read of Plan B, I think it's a great book for several reasons…
The question about God most asked by people who are not Christians is "Why does God allow bad things to happen to good people? and this book addresses that.
The book is not only spiritual but also immensely practical.  Every single one of us has faced disappointment in our lives.  Every one of us has been forced to move to plan b in at least one area of our lives.  This book can help bring insight and perspective to those circumstances.
A lot of Christians have the misconception that if they follow Jesus, God will make all their dreams come true.  This simply is not true.  When plans fall apart, this can cause a crisis of faith and a lot of unbiblical explanations from "God must be mad at me" to "God doesn't exist."
For those reasons, I not only think Plan B is a good book to read individually, but I think it would make a great small group study.  When I'm done reading it I may even suggest to the senior pastor and programming director at my own church that we do a sermon series based on this book.  The issues addressed are just that important and relevant to people's lives.
Discussion
When in your own life have you had a "Plan A" come crashing down and been forced to move to "Plan B?"
How did you initially react?  Did you blame God?  Question His existence? Wonder if He had abandoned you?
If some time has passed since then, has your perspective on the crisis changed at all?  If so, how?
Edit 5/3 7:45 AM: Plan B for Nashville
Pete Wilson lives in Nashville. His publisher, Thomas Nelson, is also based in Nashville. Oddly enough, on the day the book is released, many in their hometown have been forced to Plan B due to flooding. Pete's church, Cross Point, is stepping up to help them.