Intense
(Apologies again for some of the low-quality pics, as several were ripped from our low-quality video as we tried to be as inconspicuous as possible taking pictures in some sensitive settings.)
We started this morning by visiting a local school.  The school has about 600 students ranging from what would be about 1st through 8th grade in the US.  We brought with us about a dozen soccer balls and some shoes and socks.  When we arrived, there was a group of about 30 boys running around on a soccer field kicking around a plastic bag.  As Joe pumped up a soccer ball, several other groups of students noticed the ball and started excitedly jumping up and down.  Joe shanked, er, I mean punted the ball out to the boys on the soccer field and they just went crazy for it.
And things at the school only got better from there…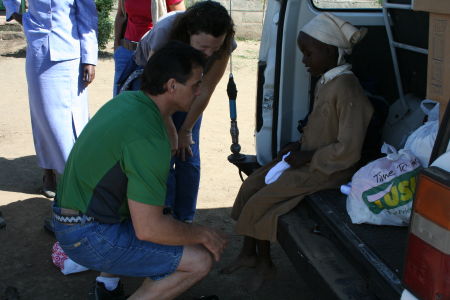 We started talking with some of the teachers and students.  We also looked around for those students who had the shoes in the worst condition and started getting shoes for them.  As we were fitting some students for shoes, others gathered around.  We said hi, asked them their name.  Kids are taught English from a very early age in Kenya, so we were able to talk with many of them.  A couple of them started pulling on my arm hair, which I'm told is unusual in Kenya.  They also loved it when I would take their pictures and then show them the image on the camera's LCD screen.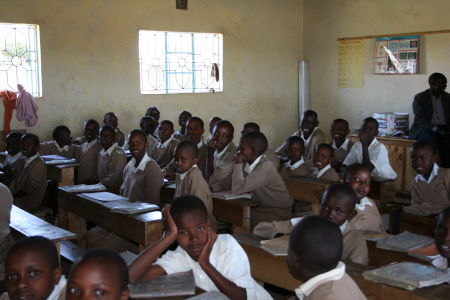 Florence, one of the teachers,gave us a tour of the school.  There are 60-80 kids in each classroom.  The kids in each class welcomed us and one class even sang us a song.
We met a number of students with handicaps.  Jon is a little boy who is 12, but looks like he's 7 and has some mental challenges.  Pauline is a little girl with an odd deformity on one side of her head, and one of her hands has grown extremely large.  Another boy named Jon has muscular dystrophy and is confined to a wheelchair.  Currently all of the special needs children are in the same classrooms as the rest of the kids, but Molly and Joe are trying to raise the money to build a classroom specifically for special needs kids.  They've been told if they can get the classroom built, the government will pay for the teachers.
Monica and Judison
From the school we went to visit Monica.  Her daughter is the young woman whose story we saw via video in last year's Christmas service at Cypress Meadows.  She invited us into her home where we met her and her 3 grandchildren.  Monica has AIDS.  For a while she had a supply of vitamins and Zantac which were helping her health to improve, but that ran out a while ago and unfortunately she did not look too well when we saw her today.  It served as a strong reminder of blessings we have in the US of access to basic health supplies which are not available to most Kenyans.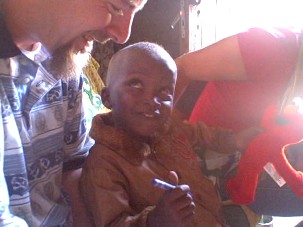 Next we went to visit Judison, a 7 year old little boy.  Molly said when they first met Judison in the hospital a couple of months ago he looked like a skeleton.  Both he and his mother have full-blown AIDS.  You probably already know that getting the drugs needed to fight AIDS is a challenge here in Kenya, but even with medication many people have a difficult time staying healthy because their diet is so poor.  Molly and Joe have been helping Judison with food since he was discharged from the hospital, and they said the transformation has been remarkable.  We chatted with him and his mother for a bit and gave him crayons, a coloring book, and a stuffed animal.  He looked great to me and interacted with us.  If I hadn't been told he has AIDS I never would have guessed it.
The Accident
From Judison's house we drove back to downtown Nakuru for lunch.  Along they way we came up to a few people standing in the right lane of the highway looking down.  As we slowly drove by, we saw a little girl probably 5 or 6 years old lying in the street in a pool of blood.  She appeared to have a scull fracture.  It was a gruesome scene.
Daniel pulled the van off to the side of the road and he and Joe got out and went to help.  Molly, Jen, and I stayed in the van and fought back tears as we prayed.  I prayed for her family and that somehow through Joe and Daniel God's could do something positive.  To be honest, I didn't think there was anyway the little girl could be alive so I didn't even pray for her.
The crowd continued to grow and then we could see Joe and another man pick the girl up and carry her to another car.  In Nakuru, they simply don't have ambulances.  If someone gets hurt they just put them in the nearest car and drive them to the hospital.
When Joe returned to the van, he had blood all over his arms.  He told us the girl had been hit by a car and the driver simply drove off.  She had big gashes in the front and back of her head and had lost a lot of blood.  Joe had checked her for a pulse several times in different places found one but it was very faint.  He did not expect her to make it to the hospital alive.
It was a rather upsetting experience, but nothing compared to what it must have been like for the little girl's family.
The Burn Ward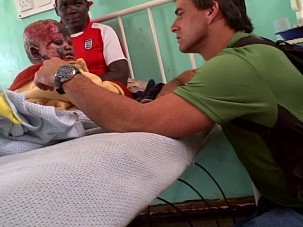 After getting so lunch in Nakuru, we went to the hospital.  We started by visiting children in the burn ward.  Most Kenyans have small one-room homes, they often have to cook in very close quarters.  And because outside the city there is not much running water, most also have to boil all their drinking and cooking water.  As a result, it's not uncommon for children to fall into fires or knock boiling water onto themselves.
It was quite sad to see these little kids and toddlers with entire arms or sides of their faces burned.  And let me add that a hospital in Kenya is nothing like a hospital in America.  Each "room" is completely open to the hallway and there are 6 beds in each room, so there's no privacy and no quiet.
We went around from one child to the next talking to them and their parents and giving them lollipops, or as they call them "sweeties."  It brought a smile to many of their faces.  Some of the little ones started following us around as we visited other kids.
Layna
We walked into one room and there to our surprise was the little girl who had been hit by the car a couple hours earlier.  She was unconscious but breathing.  We learned her name is Layna.  We prayed with her and her mother, Ann.  Later we watched as 2 doctors carried her off to another room where we were told she was going to get stitches.  She is still teetering on the edge of life, and we ask that you would continue to pray with us that God would do a miraculous healing in her.
And for what it's worth, we found out the man who hit little Layna with his car immediately turned himself in to the police.  There is a lot of corruption and ineptitude in the local police, and so people often take justice into their own hands.  If the man had stopped it's quite possible he could have been beaten to death by those who witnessed the accident.  Not that that's any excuse for leaving a child dying on the roadside, but just so you know how things are.
The AIDS Ward
After the childrens burn ward, we went to the AIDS wards.  Another thing you should know is how bad conditions at the hospital are.  Sometimes they forget to feed patients.  Its up to family members to make sure they are getting what they need, and those without families can be completely neglected.  Molly and Joe brought lots of fruit and juice boxes to give to patience who might not be getting proper nourishment.  It is also not uncommon for 2 complete strangers to have to share a bed because there simply aren't enough beds to go around.
I cannot adequately express how amazing Molly and Joe are ministering to people at the hospital.  They just quietly, without reservation walked up to complete strangers who are various stages of AIDS.  They asked them their name and how they're doing.  They touched them and interacted with them.  Mother Theresa had nothing on them.  They are just so filled with love for God and people that they seem fearless – fearless of illness, of the language barrier, of awkward social interactions.  Jen and I just felt so blessed to be able to see them in action and follow them in offering fruit and "sweeties" and a kind word or a handshake at times.
Dorcus and Samuel
While we were in one of the rooms in the AIDS ward, we unexpectedly ran into an elderly woman named Dorcus.  She is wonderful woman who loves God and ministers to the people who live at the landfill.  Joe and Molly gave her a big hug.  She then pointed us to her son, Samuel, who is 31 years old and there in the advanced stages of AIDS.  Not only that, but we learned that in the last year both Samuel's wife and his only son died of AIDS.  As Dorcus told us all this, she repeatedly gave praise to God and said she trusted that God would do good whether that was healing him or calling him to his eternal home.  Joe ask her, "Is he born again?"  Dorcus began to weep and said, "No."
There are 42 tribes or ethnic groups in Kenya.  While most Kenyans also speak Swahili and some English, just about all speak their tribal language,  Samuel is Kikuyu.  Daniel, who works with Molly and Joe and was with us today, also happens to be Kikuyu.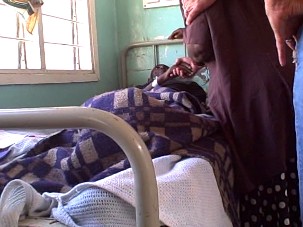 On hearing Samuel was not saved, Joe immediately turned to Daniel and, "You have to talk to him!"  Daniel talked with Samuel for several minutes in Kakuyu.  When he was done, he told us, "He says he will accept Jesus the day after tomorrow."
Molly then jumped in and said, "He might not have a day after tomorrow! Daniel, I'm going to talk to him, you translate!"   Molly pleaded with Samuel, telling him Jesus loves him and wants to spend eternity with him, that he might die before they come back again.  Still Samuel said the day after tomorrow.  So, Daniel decided to pray for Samuel and we all joined him.  Both Joe and Daniel made it clear to Samuel that they were not going to pressure or badger him but would just ask him one more time, and Samuel responded saying yes, he wanted to receive Jesus as his savior.  We all wept and hugged and prayed and talked with Samuel some more.
It was the highlight of my day.
I can only imagine how much joy it brought Dorcus, who loves Samuel and Jesus so much.
So much more…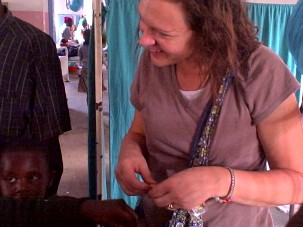 There was so much more that happened in the hours we spent at the hospital.  I wish I could tell you about everything, but I'll give just a few more highlights…  We spent some more time in the children's wards interacting with the kids while giving out the crayons, coloring books, bracelets and necklaces people had given to us.  Boy were they a hit!  We made arrangements for a little 3-year-old boy with a heart condition to get an MRI.  We helped another boy who was being discharged with food and shoes as he went home with his dad.
Then we met Helen and her little boy Jeff, who is almost 2.  Molly and Joe have known Helen for a while.  Jeff is sick and Helen wasn't happy with the treatment he received at the hospital.  They didn't diagnose his illness, just gave him antibiotics and anti-malarial pills and sent him home.  So, Molly and Joe made  arrangements with their own doctor to see little Jeff.  We drove them to the clinic and waited with her.  The doctor diagnosed him with malaria and pneumonia and gave Helen the medication he needs to get well.
While at the clinic it started pouring, so we actually gave the doctor a ride home.  And we brought Helen and Jeff back to the house here with us where we had dinner together and are now sleeping in one of the extra bedrooms.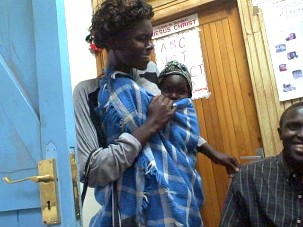 To sum it up…
If I had to sum up today with one word it would be "Intense."  There is just such intense hardship here, it is almost overwhelming.  But there is also such intense love being poured out, that that too is almost unbelievable.  It seems like one minute we're weeping in sadness and the next we're weeping with joy.  And if you know me, you know I'm not that emotional a person.  But it just seems like every hour here is a matter of someone eating or going hungry, a matter of life or death, a matter of heaven and hell.
Day 3: A Typical Day for Us <– Kenya 2009 –> Day 5: The Beautiful and the Not So Beautiful.