Drought in East Pokot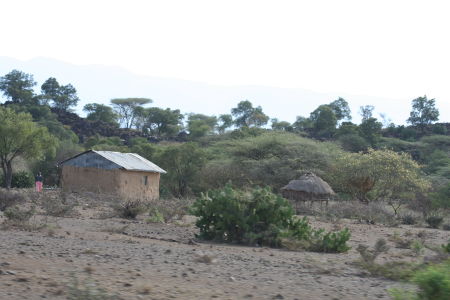 Saturday, at 6:30 AM Joe, Molly, Daniel, Victor, Jennifer and I left for East Pokot.  Before leaving town we picked up Theresa, a pastor who sold her home in the US and moved to Nakuru in December.
We went to East Pokot to visit Pastor Chochoi and his wife, Nelly, who operate a home for 50 girls.  Many of the tribes in Kenya do female circumcision/mutilization and forced marriages.  Often girls 15 years old (or younger) are forced to marry 50 or 60 year old men.  They are essentially sold for a dowry.  The Cana Girls Rescue Home takes in girls some as young as 8 or 9 who have run away to escape these horrid customs.
East Pokot is about 100 miles north of Nakuru. The drive started on a rough, paved-but-potholed road and after we crossed the equator it went down hill from there.  The last 30-40 miles there was no pavement, no gravel, just dirt and rocks.  The climate and vegetation also got more rugged as we traveled north, from a fairly temperate climate here in Nakuru to semi-arid and then arid.  The East Pokot area is desert, similar to what you'd find in Arizona.  The area is so dry, they can't grow any crops.
The Pokots (the tribe of that region) survive by raising goats and honey, which they sell to get the grain and other things they need to (hopefully) survive.  All along the drive to East Pokot there are dukas (little roadside stands) selling honey.
East Pokot is by far the most desolate and remote place I've ever been.
Cana Girls Rescue Home
Upon arriving, Pastor Chochoi invited us into his home for chai (tea) and chapate (flat bread).  He described the circumstances may of the girls ran away from and how they were not only providing a home for these girls but school and a spiritual foundation so that the girls can learn a trade or go on to college and eventually become productive members of society and roll models for other girls.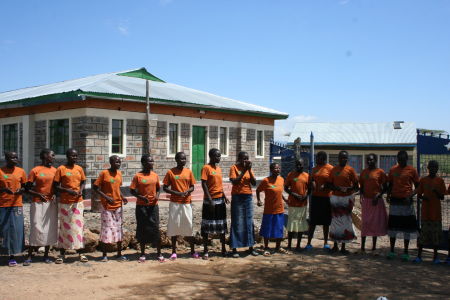 He showed us around the facility.  They building is nice by Kenyan standards but they still don't have tables and chairs in what will become the dining area, and they have empty rooms where they hope to house more girls, but just don't have any beds for them yet.
We had a chance to meet some of the girls.  They sang for us.  Jennifer led them in making salvation bracelets and presented the good news of Jesus Christ using the colors as she did in Kabarak a few days earlier.  Joe and Theresa spoke words of encouragement to them.  Then we showed them some of the things we brought with us for them.  We brought with us 10 cases of dehydrated food, which came at the perfect time as they were almost out of food.  We also brought some toiletry items, feminine products, and lotions which brought big smiles to their faces.  And we gave them a couple of soccer balls, which they were really excited about.
Elusive Camels and Downtown East Pokot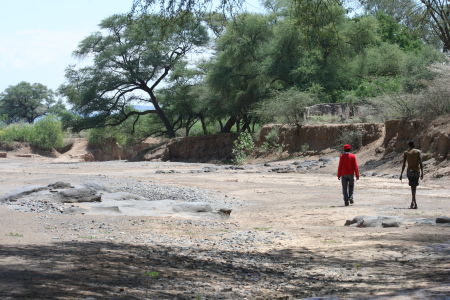 Pastor Chochoi then took us for a walk down to the river so we could see the wild camels that congregate there to drink.  But all we saw was a dry riverbed and no camels.  We continued to walk and walk and walk in extremely hot and dry conditions, but we never did see camels.
We eventually returned by going through what passes for downtown in a Pokot village.  It was quite fascinating.  We got to see some of the other people from the village including some of the older women who wear these beautiful bead neck rings and lots of earrings.  We interacted with some of the children. Pastor Chochoi bought us all sodas from the shack, which serves as the supermarket for East Pokot.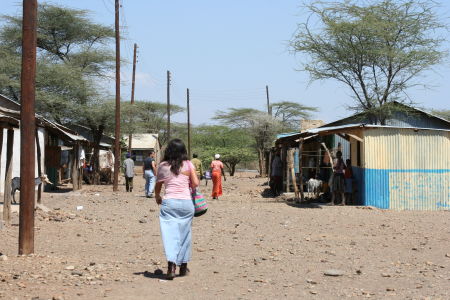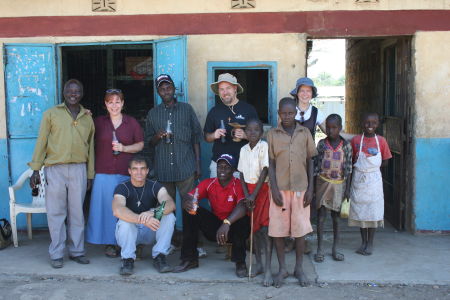 Food Distribution
We returned to Pastor Chochoi's home where we were served a very nice lunch, though it's going to take a while before I'm used to eating chicken chopped into chunks, bones and all.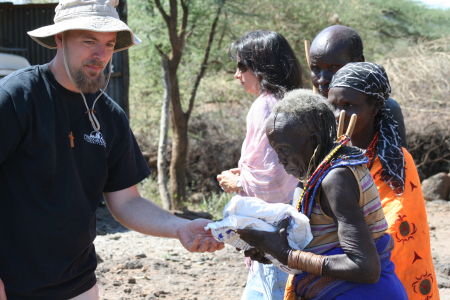 Before leaving we distributed dehydrated food to some the people of the village.  I felt bad for them as they lined up to receive the food.  I don't know how they felt about it, and I'm trying not to project my feelings onto them, but if I was in their shoes I would have felt embarrassed and somewhat humiliated to line up with my hand out like that.  We tried to preserve their dignity as best we could by smiling and saying "God bless you."  They don't speak English, so I can only hope they know it was given out of love and genuine concern for them.
They we left on the long, hot, bumpy journey home.  We had some car trouble and ended up stopped along side the road for a while, but Daniel, Victor, and Joe were able to do what was needed to get moving again.  Daniel used to be a truck driver, and because of the rough roads in Kenya you've got to be an amateur mechanic to drive a truck.  I think we got home around 8 PM after a very tiring, but rewarding day.
Reflections
As I sit and reflect on our trip to East Pokot, it's just hard to believe that people live in these dry, desolate conditions.  I also can't imagine what it must be like to be a young woman in a culture where they still practice female circumcision/mutilation and forced marriage.
While some people would suggest the Pokot people need to be educated to get them to stop their terrible treatment of women, I just don't see how that could change things.  These are customs that go back thousands of years.  The Pokot men view women as property and as long as that is the case, they will continue to treat women however they want.  The only hope for these people, for the women, lies in a complete change of worldview.  Only when a person receives Christ as their savior, can they understand that God loves each and every person, and that everyone, including women, is a valuable, child of God.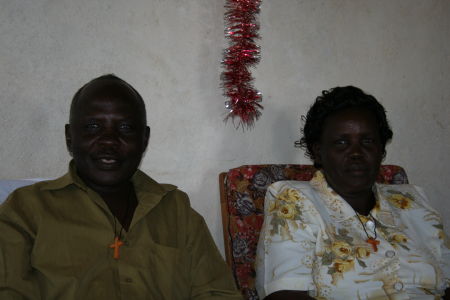 I'm amazed at the faith, the sacrifice, and the commitment of Pastor Chochoi and his wife.  Pastor Chochoi is educated, speaks good English, and is gifted at networking and developing relationships.  He could move somewhere else if he wanted too, somewhere less isolated and more comfortable.  But he is Pokot and he has dedicated his life to serving the Pokot people and these young women.
Please pray for them as they do this very difficult work.  Pray for the girls that after leaving their families they would know they are loved by God and the staff at the rescue home.  Pray for Pastor Chochoi and Nelly that God would bless them and their ministry.  And Pray for the people of East Pokot as they are in both a climatic and spiritual drought.  Pray that God would provide the food and water they need to survive in an area that is already very dry to begin with but has received even less rain than usual   And pray that the Pokot people would turn from their old ways and embrace Jesus as their savior and follow him with their lives.
Heading Home
Well, we are just about at the end of our trip.  Sunday we begin the long trip back to the U.S.  If all goes well we'll touch down at TIA around 4:30 PM Monday.  Please pray that we will have a safe and uneventful trip home.  I'll probably make one more post to wrap things up somewhere along the way or when we get home.
Day 7: Safari <– Kenya 2009 –> Post Trip: we're Back!