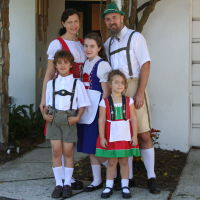 Tomorrow our family will have 80 or so friends and family over to our house and celebrate our 15th Annual Steinbrueck Oktoberfest.
It will be an Amazing Day – a perfect fit for the 31 Amazing Days Challenge.
And it fits right in with the book I'm reading right now by Bob Goff – Love Does: Discover a Secretly Incredible Life in an Ordinary World. Here's a short video of a past Oktoberfest:
A few years ago I blogged about why we do Oktoberfest. And how the only thing that sucks about it is that we can't invite everyone we know.
This year, we're also a Christmas Tree for Kenya, where guests will be able to buy Christmas gifts for the kids at Springs of Hope Kenya.
How are you putting love into action and creating amazing days these days?