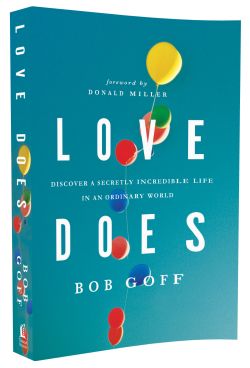 A few weeks ago I had lunch with my pastor. At one point in the conversation he started raving about this new book he had just read – Love Does by Bob Goff.
He told me he was so impacted by it, he bought a copy for each of his 4 kids who are in their late teens and early twenties. Not only that, but he taped a $100 bill to the back and told them it was theres when they finished reading it.
I asked him if he was interested in adopting any more adult children.
He kept on talking about how he wished everyone in our church would read the book, so asked him… why not do a sermon series on it?
We're one of those churches that plans sermon series months in advance, so I was thinking perhaps we could do it in the spring. But the next time I saw my pastor he was in front of the entire congregation announcing that we were postponing the series we had planned to do next so we could do a 4 week series on Love Does.
Not only that, our church would provide a free copy of the book to every family in the church. Everyone was encourage to read one short chapter each day, and small groups leaders were given discussion questions to help them facilitate discussion among the folks in their group.
Must be a pretty good book, eh?
It is.
The back cover says, "When when Love Does, life gets interesting. Each day turns into a hilarious, whimsical, meaningful chance to make faith simple and real… Light and fun, unique and profound, the lessons drawn from Bob's life and attitude just might inspire you to be secretly incredible too."
I'm reading a chapter each day in October – Chapter 18 today on the 18th. I invite you pick up a copy – paperback or Kindle – and read along with me.
Post a comment & tell me what's impacted you the most. Or better yet, share your own whimsical story of when you took a chance and said yes to God.
If you're in the Clearwater, FL area, join me at Cypress Meadows Community Church, where we're learning to do love every day in fun and meaningful ways.