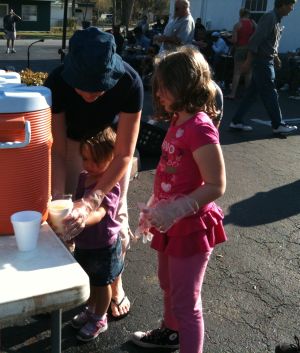 Last week in Things You Don't Have Time Not To Do: 14) Help Others, I wrote about how helping others is critical to finding fulfillment and meaning in life. If you're the parent of a young child (or several as I am), that can be tough. And there are lots of seemingly good reasons to pass on helping others.
Time is limited because of the demands of work, family, and household chores.
It's be a big hassle and imposition to find someone to watch the kids while I serve others.
I'm already serving my kids and spouse, doesn't that count?
There's a solution that addresses all those issues. It's not simple or easy, but it's a great solution:
Serve with your kids
Instead of having someone watch your children while you help others, take them with you. Obviously, not every serving situation is conducive to children, and it's important to be age-appropriate, but there are many benefits to serving with your children.
The people who you serve are better off.
You don't have to find someone to watch your kids or ask your spouse to watch the kids while you're serving.
It's quality time with your kids.
It shows your children that serving really matters. You are not just talking the talk, but you're walking the walk.
It creates family memories.
It creates a family identity. We are a family that serves together.
It gives you the opportunity to model and train your children how to serve others.
It gives your children the opportunity to serve others and make a difference in their lives. That gives them a sense of fulfillment and purpose.
It gives your children the opportunity to meet people who are different than they are ethnically, economically, socially, and more. It helps your children develop compassion, understanding, and even friendships with people in different circumstances.
If you serve people who are struggling financially, it gives your children the opportunity to see how blessed they are. Serving with you will help them develop a sense of gratitude and a passion for giving.
Talk about things you don't have time NOT to do. Is there anything else you can think of that accomplishes 10 things – for yourself, your children, and others – simultaneously?!? I can't think of anything that comes close.
Examples
My wife, Jennifer, and I have tried to serve with our children as much as possible. We love it and we love to see our children developing servant's hearts.
When I ran the sound board during Sunday services, I often brought one of my kids to "help."
Jennifer has taught in our children's ministry for years, and the last several years our oldest daughter Ainsley has helped her on a regular basis.
We've created "homeless bags" together as a family.
We periodically join a group of folks from our church in serving food to people who are homeless. This freaks some people out, but we have strict rules about staying close to mom or dad, not using the restroom by themselves, etc. Many of the adults and kids love to interact with our kids and they bring smiles to people's faces.
This summer Ainsley is going with Jennifer and I to Nakuru, Kenya to serve the kids at the Springs of Hope and in the surrounding community.
If you've got children, do you serve with them? If so, how? If not, what are some ways you could serve others with your children?