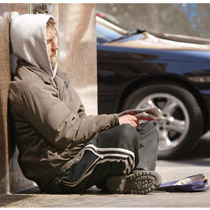 So, you're stopped at a traffic light and see a homeless guy with a cardboard sign asking for help.  At least you think he's homeless, but you don't really know.  If he's really in need, you'd like to help.  But you're also afraid if you give him money, he might go out and spend it on drugs or alcohol.
Been there?  I know I have lots of times.
I feel this tension – do I roll down my window and give him a couple bucks and hope for the best?  Or do I try to avoid eye contact drive on by?
A couple of years ago my wife and I started keeping box of granola bars in our cars to hand out in those situations, but yesterday Jan blogged about a much better way to help people on the streets asking for help…
Homeless Bags
A small group at our church small got together to make "homeless bags."  They got a bunch of the big 1 gallon zip-lock bags and filled them with items helpful to those in need.  They keep them in their cars to pass out any time they see someone on the street asking for help.
Gina, the group leader, emailed me this list of things they put in their homeless bags.
Bottles of water
Snack type items  (at least 4 people to sign up for this so each bag has a number of different snacks–all non-perishables).  In the past we have used granola bars, breakfast bars, those little snack packs of different sorts, pop tarts, packages of nuts, individual bags of chips, fruit snacks , candy  etc. )
A semi-healthy snack (we did cans of fruit w/ the pop open tops, and/or applesauce)
Napkins and spoons (for the snack above)
Juice boxes or Capri Suns
Hand written notes  with bible verse written on it. everyone making the bags signed the cards.
A copy of "The Daily bread" if possible.
Awesome idea is it not?
I love the way they are trying to not only meet the physical needs but the emotional and spiritual needs as well.  And I love that they did it together as a group.  Way to go, Gina & group.  You can see pics of the group putting them together on Jan's blog.