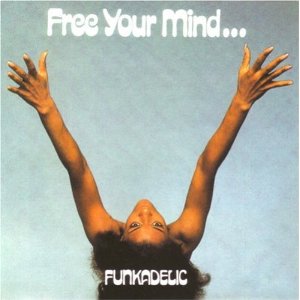 You know what it's like to be, "in the zone," right? That state where things are flowing, you're relaxed, and you're completely engaged. Life is good "in the zone."
There is one thing we can do, and the happiest people are those who can do it to the limit of their ability. We can be completely present. We can be all here. We can give all our attention to the opportunity before us. –Mark Van Doren
But most of the time we're not fully present…
You're on a date with your spouse, but you're mind is on that project at work.
You're working on a project at work, but you're trying to remember what you're supposed to pick up from the store on the way home.
You're in a meeting, but you're thinking about the calls you have to make before the end of the day.
David Allen writes in Getting Things Done, "Most often, the reason something is 'on your mind' is that you want it to be different than it currently is, and yet: you haven't clarified exactly what the intended outcome is, you haven't decided what the very next physical action step is, and/or you haven't put reminders of the outcome and the action required into a system you trust." Until you do those things "your brain can't give up the job."
In other words, if you want to be fully present and "in the zone," you've got to free your mind. You've got to free your mind of the task management duties by off-loading them to a trusted system.
That's what Getting Things Done is all about.
So, I'm going to attempt to give you…
A 3 minute overview of Getting Things Done
There are 5 stages we go through as we deal with our work
Collect things that command out attention
Process what they mean and what to do about them
Organize the results
Review as options for what we choose to do
do
1) Collect
You've got to collect 100% of the stuff that requires your attention in designated "places" that you will process on a regular basis. Typical collection tools include
Physical inbox (at work and at home)
Email inbox
Paper or electronic note-taking devices
Any time you get more "stuff," put it in one of those collection tools.
2 & 3) Process/Organize
Here's where things start getting fun. On a regular basis, process everything in your collection tools using this series of questions
Is it actionable?
No?

If it's trash, throw it out.
If it's reference material, file it
If it's something you might want to do but you're not sure, put it on a "maybe/someday" list.

Yes?

Does it require more than one physical action step?

If yes…

Put it on your projects list
Create a folder for it if necessary
Define the desired outcome
Determine the next physical action step needed, & continue below…

If only 1 physical action step is required…

If you can do it in 2 minutes or less, do it now.
If it can be delegated, delegate it and put it on your "waiting for" list.
Otherwise, defer it

If there's a specific date/time, put it on your calendar.
If it's to be done as soon as I can, put it on your "actions" list (You may choose to break your actions list into categories like errands, calls, computer so its easier to manage.)
The end result of processing your inputs?
Everything is one of these 7 places

Trash
Filing cabinet
Someday/maybe list
Delegated & a reminder on your "waiting for" list
Calendar
Action list
Done

Your collection tools are empty
Your mind is free
If you're visual and like flow diagrams, here you go.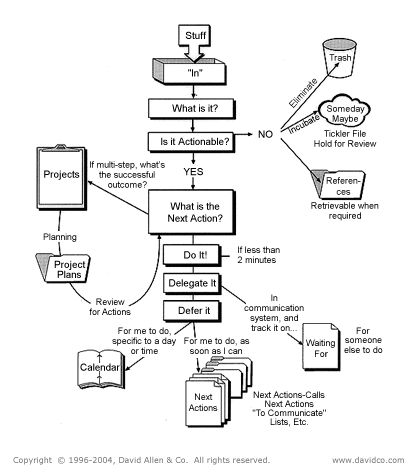 4) Review
To make this work, you'll have to review on a regular basis those places/lists that serve as reminders. That includes:
Review the someday/maybe list and decide if you want to take action on anything now
Review the waiting for list to see if you need to follow-up on anything
Review your project list/plans and determine if any new actions are needed
5) Do
Processing your inputs and doing the 3 reviews will become routine. Then the rest of your time you can just keep your calendar and action list handy and focus on one action step at a time.
If you're seeing all this for the first time, it might seem a little complicated at first, but trust me it's easy to pick up and will quickly become second nature. You may also have a lot of practical questions about how to apply these methods to your specific situation. That's why the book is 260 pages and not 3 – to address questions and specific applications.
My hope is this brief overview has given you a taste of how the Getting Things Done methods can free your mind to be fully present in every situation.
Discussion:
What are your thoughts on the Getting Things Done system?
Are there any particular parts of it that really resonate with you?
Can you see how it could help you free your mind and better live in the moment?
Don't forget, I'm giving away a copy of Getting Things Done.
9) Tell Your Kids Why <– Things You Don't Have Time NOT to Do –> 11) Create Checklists