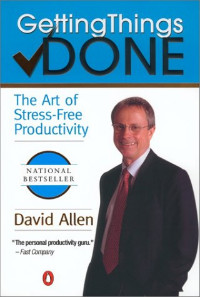 Today we're reviewing, discussing, and giving away Getting Things Done by David Allen. Keep reading to learn how you can win a free copy.
Getting Things Done, written by David Allen, is recognized around the world as one of the most important personal productivity books ever written. David Allen has been teaching the principles and methods contained in Getting Things Done to CEOs and fortune 500 companies for decades, resulting in remarkable gains in performance and reductions in stress.
The premise of the book is that we experience a lot of stress and lost productivity from constantly trying to remember and figure out what we need to do. We can reduce stress and increase productivity if we capture outside of our heads everything we need to do and clarify the next action step needed in each project.
The trick, however, is that the system we put in place to capture inputs, define actions, and remind ourselves of what needs to be done has to be completely trustworthy. If we don't trust the system, our minds won't let go and we won't experience the reduced stress and increased performance that is possible. That's where most people are. Most of us have a system that includes things like inboxes, to-do lists, calendars, and files, but it either doesn't capture everything, or action steps are unclear, or it doesn't provide adequate reminders.
In Getting Things Done, David Allen not only explains his comprehensive system, but walks the reader through setting up and getting started with the system.
Personal Thoughts
I am a pretty organized person. I've got good systems in place. Ask anyone who's ever worked or volunteered with me and they'll tell you I'm the "Action Item Czar." No meeting I'm in ends without defining action items and making sure those action items get into the assigned person's to-do list or priorities. I didn't think I had a whole lot to learn when it comes to managing time, action, and priorities. But, let me tell you…
Getting Things Done is flat out awesome!
Getting Things Done showed me that I had holes and ambiguity in my system. It showed me where my system wasn't working because certain aspects of it were too much of a pain therefore I wasn't following it. Now I'm working to implement the Getting Things Done methods into the way I manage my stuff.
Just to be clear, Getting Things Done isn't software. It isn't something you have to buy or subscribe to (though, they now offer software to help). It's a system of processes and methods to help you capture everything in your life that demands your attention, process those inputs into action steps, and organize those action steps in a way that is simple, trustworthy, and freeing.
If you are a busy person, I want to stress that GTD is extremely practical and produces immediate results. Unlike some of the Things You Don't Have Time NOT to Do that are big-picture things that require a significant investment of time up-front and eventually pay off by saving more time in the long run, you can start implementing Getting Things Done methods quickly with a very small investment of time and they will immediately reduce your stress and free up time.
Getting Things Done is one of the top 3 books I've ever read.  I highly recommend you read it. It will change your life.
I'm going to do several most posts about GTD concepts and methods over the coming days.
Discussion:
What do you use to manage your time, actions, and priorities? One big to-do list? Create a daily to-do list? Write everything into a calendar?
To what extent do you find yourself stressing over and trying not to forget things you need to do?
How would your life change if everything you need to do was captured in a system you trusted and didn't need to think about?
If you've read Getting Things Done, what do you think of it and how has it impacted your life?
Get a Free Book
Getting Things Done is soooo good, I'm going to buy one LiveIntentionally.org reader a copy. To win it…
Retweet this post or share it on Facebook, and
Post a comment that addresses one of the discussion questions  (include your Facebook or Twitter usename in your comment so I can connect your comment to your share/tweet).
Get multiple entries into the drawing by sharing/commenting once each day.
I'll draw a winner at 5 PM Eastern Monday February 28.