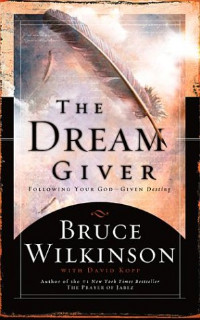 To coincide with yesterday's post, Things You Don't Have Time NOT to Do: 1) Dream, I'm posting a review and giving away one of my favorite books on topic of living your dreams, The Dream Giver by Bruce Wilkenson. Keep reading to learn how you can win a free copy.
You may recall that Bruce Wilkenson is also the author of The Prayer of Jabez, which sold more than 20 million copies.
The Dream Giver is made up of two parts. The first part is a parable about Ordinary, a Nobody who leaves his home in the Land of Familiar to pursue his Big Dream. The story illustrates pattern that Wilkenson says is repeated throughout the Bible whenever God's people reach for the dream God has given them. In the second part of the book, Wilkenson serves as a "dream coach" and explains the 7 steps to pursuing a God-given dream illustrated in the parable.
Personal Thoughts
Pursuing a big dream is big, scary undertaking. That's why most people never pursue their dreams. There are also a lot of myths and unrealistic expectations about what will happen when pursuing a dream, and as a result many people give up before they get there.
What I love about The Dream Giver is it not only encourages dreamers to pursue their dreams but explains the obstacles dreamers will face on the way to their dream and why those obstacles are critical to achieving the dream.
I believe (and so does Bruce Wilkenson) that God gives each of us a dream, something He wants us to accomplish. But fulfilling the dream isn't the only thing God wants to accomplish. He also wants to grow our character and our faith in Him on the journey.
If you have a dream – and everyone does, I can't recommend strongly enough that you read The Dream Giver.
Get a Free Book
I want to give a copy of The Dream Giver to someone who will really benefit from it, someone who is really serious about pursuing their dream. Maybe your dream just in your head and you haven't even told anyone much less taken the first step. Maybe you've been pursuing your dream and you're so close you can taste it. Or maybe you're somewhere in between. If you'd like a chance to win:
Tweet this post or share it on Facebook.
Post a comment telling us about your dream and where you are in the process of pursuing it. (And include the Twitter/Facebook account where you shared this post)
I'll announce the winner at 5 PM Eastern time Monday, January 10. Or, you can just buy a copy of The Dream Giver now.