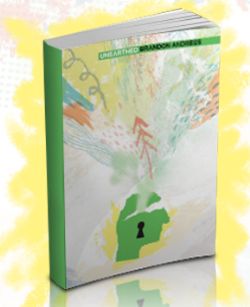 In an effort to help Live Intentionally readers reach their dreams and inspire others, I've invited you to share your dreams. Every Friday I'll feature another reader & their dream. Today's post is by Brandon Andress…
I don't know how many times I have taken something mechanical apart, in order to fix it, only to get it completely disassembled and not know where to begin in putting it back together.  Inevitably there are three dozen screws thrown about (of which I will only be able to remember where two dozen of them actually go), plastic parts that once fit snuggly together now only coming together through brute force, and little rubber pieces that my dog has now chewed and swallowed.
The process of taking something complex that is broken and putting it back together is a daunting and overwhelming task filled with all sorts of emotions and feelings- frustration, impatience, doubt, despair, and maybe even surrender (if you are me).  Maybe I am being a bit too melodramatic but I am convinced that if a person chooses to put something complex back together, he or she should be prepared for a bumpy ride.  It isn't all going to be daisies and roses…but if (and maybe when) it all comes together in the end there is a sense of joy, accomplishment, and satisfaction for a job well done.
I see the Church as something like a vacuum cleaner that isn't really working right.  Sure it still might be able to clean the floor…but not like it used to.  It runs…but it makes a lot of noise and occasionally stinks up the room.  It sucks up the easy stuff…but has a hard time dealing with the big stuff.
There have been many people who have deconstructed this machine.  Some have deconstructed it for the fun of it with no intention on trying to fix it or put it back together.  Others have looked at all the parts in shambles and concluded it isn't worth all the work to put it back together.  I have looked at the pieces myself and felt really overwhelmed.  I have thought that it would take a real miracle worker to be able to put all of these pieces back together again so that it could function like it was always intended.
That has been my burden and prayer for the Church for so long…that despite how complex, convoluted, and in disarray it is…that the Church would find it's heart, it's soul, it's first love and begin to be pieced and mended back together as one by the greatest miracle worker the world has ever known.
The last documented prayer of Jesus before he was arrested was a prayer for unity among believers:
I pray also for those who will believe in me through [the disciples'] message, that all of them may be one, Father, just as you are in me and I am in you. May they also be in us so that the world may believe that you have sent me. I have given them the glory that you gave me, that they may be one as we are one— I in them and you in me—so that they may be brought to complete unity. Then the world will know that you sent me and have loved them even as you have loved me.
The truth is that the Church has been far from the answer to Jesus' prayer of unity.
Disunity is the embarrassment and the ridicule of the Church. We have been mocked by the cynics and the naysayers who declare that there is no way that God exists because if He did, there would not be such a divided and misaligned group of people who claim to work on His behalf. Disunity is the dark stain, the blemish, on that which is to be pure and spotless. Of all people who ought to know something about unity, we are the exact opposite of it. The Church is the group of people who has become the face of pettiness, division, in-fighting, conflict, and war with each other. Our disunity is nothing less than shameful and disgraceful. The grace and peace of God that has been so generously given to us and that we should generously and freely extend to each other has instead been replaced by judgment and conflict.
While we all agree that Jesus is Lord and we confess Him with our lips, our denominations and individual churches argue and compete against each other as if we are on separate teams involved in some sort of competition. We behave as if our individual churches or denominations have been given the exact truth or revelation from God and we are the only bearers of it. We treat other brothers and sisters in Christ as heretical pagans if they do one small thing differently than we do. All the while we continue to divide and divide and divide, and build walls higher and higher and higher.
We have to ask what we are trying to hold on to and defend? What kingdom or power structure are we building up and trusting in? Can we not see that we are fighting the wrong enemy and our division works against the Kingdom of God?  Do we continue to argue for our "right" position because it glorifies us or glorifies God? These are tough questions, but questions that have to be asked nonetheless. Is it about our own kingdom or the Kingdom of God?
Do we all not preach Christ crucified and resurrected? Do we all not preach that through our faith in Jesus we are saved? Do we all not preach the confession and the repentance of sin? Do we all not preach one faith and one baptism? Do we all not take a bread and cup that unites us into one body through One Body? Do we not believe the words of Jesus that a kingdom divided against itself will not stand! This is true for any kingdom. How will we bear graciously and patiently with our enemy if we cannot bear graciously and patiently with our Christian brother or sister?
The simple fact is that this battle cannot be fought and won with little bands of resistance forces operating on their own. For this battle, it takes each one of us who call Jesus as Lord to unite behind the great proclamation and the great demonstration of the Kingdom of God to defeat the enemy. It is in the Kingdom of God that we find the one thing which unites and binds us all together and draws us out of division and denominationalism once and for all.
Just as a body is one but has many parts that form this one body, the same is true in Christ. We were baptized by one Spirit to form one body. We lose our individual identities and become hidden in Christ. He is the head and we are the body. His ways become our ways. His Kingdom is our Kingdom. And in His Kingdom there is no room for other kingdoms. There is no room for political kingdoms that divide. There is no room for nationalistic kingdoms that divide. There is no room for religious kingdoms that divide. And, there is certainly NO ROOM for your own individual kingdom.
There is only one Kingdom and it is to that Kingdom we must unite and conform! It is to that Kingdom we must pledge our allegiance. That is why it should not surprise us that the Kingdom of God is the great unifier! Because it was the Kingdom of God that Jesus was calling us into all along. He was calling and inviting us into His Kingdom and only His Kingdom. It is the Kingdom for which we have been called to take in word and action to the nations, baptizing and making disciples, so as to complete the Body of Christ. That is the Gospel message that we join together to proclaim! The Gospel message is nothing more and nothing less than the Gospel of the Kingdom of God! That is the Good News! It is for that Good News we share a united voice. There is no other message that is more important.
And it is to this God-sized dream to which I see the Church awakening:  That God would use each one of us to unite and bring the Body of Christ together to extend his Kingdom on earth as it is in heaven.
To join me in this dream please take the opportunity (individually and as churches) to read my book Unearthed: How Discovering the Kingdom of God Will Transform the Church and Change the World.  This book takes a hard look at who we are and what we have become as the Church and lays out the framework for how the Kingdom of God will give unite us and give us identity and purpose.  I will be making an individual and group study available on March 8, 2011 as a free PDF download.  If you are interested, please contact me at brandon@the-living-room.org.
Grace and peace…