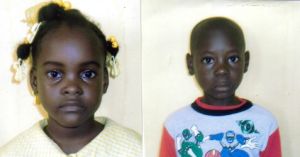 Sunday my family became the sponsors of two beautiful children in Saint-louis Du Nord, Haiti. Miller, the little boy, is 7, and Luma, the little girl, is 9.
Haiti is the poorest country in the Western Hemisphere. The average income is around $250 per year. 80% of its people live in poverty and half cannot read. Things have only gotten worse in recent years as the country has been ravaged by political unrest, riots, and military coups.

To make matters worse, in the last month alone Haiti has been battered by 4 hurricanes – Fay, Gustav, Hanna, and Ike. Some parts of the country were completely under water, and with few good roads it's been extraordinarily difficult to get food and water to the survivors. (see this CNN video)
Many parents in rural parts of Haiti can't afford to feed their children, so they send their kids – some as young as 5 – off to the city. The lucky ones become servants to middle and upper class families working 14 hours a day. The less fortunate become prostitutes or members of gangs.
My church helps to support a school for 500 children in Haiti. It provides these children with the opportunity to live at home with their parents and get an education. Believe it or not, sponsoring a child costs only $120 a year. That covers books, a uniform, some food, as well as part of a teacher's salary.
I could have written a check for $240 to support Miller and Luma and then forgotten about them until next year, but Jennifer and I wanted to involve our 3 children. We want them to learn that real people, live in real poverty, but that with God's help even they can make a difference.
Our family goes out to eat most Saturday evenings. Nothing fancy, but just going out to Chilis or Appleby's often costs over $30. In order to save enough money to support Miller and Luma, all 5 of us agreed to sacrifice one Saturday night out each month. We also put their pictures on our refrigerator so we'd be reminded to pray for them each night.