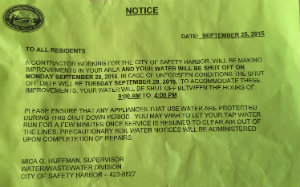 The news came as quite a surprise.
We knew the city would be shutting off the water Monday from 9 AM to 5 PM to do some work on the pipes on our block.  But we did not expect the what followed that evening… a "precautionary boil warning notice" given to everyone on our block, telling us all we should boil all water for the next 2 or 3 days.
Jennifer joked…
Maybe God is preparing you for Haiti.
Maybe she was right.
As we went through our days, so many of our day-to-day tasks were affected…
No cold water from the refrigerator dispenser
No ice from the ice dispenser
Use boiled or bottled water to make coffee
Use boiled or bottled water for cooking
No washing dishes with the dish washer (it doesn't get hot enough)
No hand washing dishes in the sink unless water is boiled first
After using the restroom wash hands with water but then use hand sanitizer
Use bottled water for brushing teeth
Be careful not to get any water in your mouth or eyes when showering
As I prepare to spend a week serving in Haiti, I realized how blessed we are to have indoor plumbing that provides clean, safe drinking water. And I have more empathy for how challenging life must be in Haiti.
I'm not exactly sure how it works at House of Blessings, but my understanding is they have to get water from a stream and it can be quite a hike with big elevation changes. Journey Community Church and others have been trying to help them drill a well, but being in the mountains makes it difficult to get drilling equipment to the site and past attempts to drill have not been successful.
We got a 2-3 day boil notice, but many Haitians have an indefinite boil notice.
You can learn more about House of Blessings Haiti and how you can join me in helping them here.
(Edit: The city has sent out a new notice saying we no longer need to boil our water)