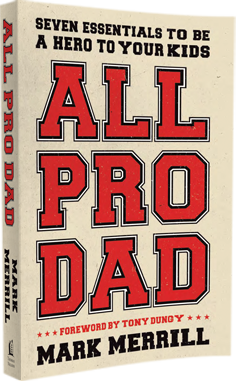 Today we're reviewing, discussing, and giving away two signed copies of the brand new book All Pro Dad by Mark Merrill. Keep reading to learn how you can get a signed copy.
Just as knowing and executing the fundamentals of football are key to an NFL player becoming an All-Pro, knowing and executing the fundamentals of fatherhood are key to a father becoming an All Pro Dad. In All Pro Dad, Mark Merrill writes that to effectively execute those fundamentals, every father must know these seven essentials:
Makeup – know your identity
Mind-set – know your purpose
Motive – know why you do what you do
Method – know how to better love your family
Model – know how to live with integrity
Message – know what you're trying to say with your life
Master – know who or what you're living for
In addition to sharing his own insight, Mark interviewed Tony Dungy, Wayne Huizenga, Jeb Bush, James "JB" Brown, S. Truett Cathy and several others fathers and shares their perspective on these 7 principles in the book.
Personal Thoughts
Mark Merrill writes with both the experience of a father of five and the humility of a man who acknowledges he still doesn't always get it right.
In the book he cites one of my favorite quotes from former Steelers head coach Chuck Noll who said:
Champions are champions not because they do anything extraordinary but because they do the ordinary things better than anyone else.
All Pro Dad is an excellent "playbook" for fatherhood because of that same principle. You won't a find a bunch of trick plays, gimmicks or quick fixes. Instead you'll find the insight and encouragement to help you become a more fundamentally sound father each and every day.
Whether you've been a father for 20 years or are about to become one for the first time, whether you've read dozens of parenting books or none at all, and whether you had an amazing father, a horrible father or no father at all, you can learn from All Pro Dad. I think you'll find it well worth the read.
In fact, All Pro Dad would be a great book to read, discuss and put into action with a bunch of other dads.
If you'd be reading and discussing a chapter a week for 7 weeks either offline (in the Tampa area) or online through blog posts and possibly a weekly chat, let me know. If there's enough interest, we can make it happen.
Discussion:
What do you think the fundamentals of being a great dad are?
What are you doing to become a better dad to your kids?
Win a Signed Copy of All Pro Dad
If you'd like to win one of two signed copies of All Pro Dad, all you have to do is
Retweet this post or share it on Facebook, and
Post a comment answering one of the two discussion questions above.  Be sure to include in your comment the Facebook or Twitter profile where you shared the link, too.
Two people who have shared and commented will be selected around 5 PM Eastern time Friday May 4 to receive signed copies (must be a U.S. resident to win.)
Of course, you can also buy a copy of All Pro Dad on Amazon right now.