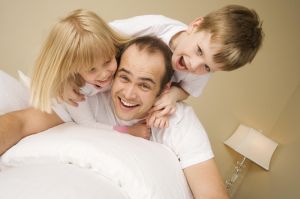 Father's Day is coming up this Sunday.  If you're dad who's gotten his share of ties you'll never wear and hand-crafted ash trays you'll never use, All Pro Dad has posted list of great gift ideas that are truly meaningful and will strengthen your family.   They include:
1) Time – You're kids will only be young so long.  Do something fun.  Create some memories.
2) Honesty – We can't love what we don't know. Make it clear to your kids that your love wants to know more than it wants to judge.
4) A one-page note of their favorite memory
6) Big ideas – Ask the kids to share their vision with you. Ask them what they think the biggest problems in the world are. How would they solve them? It may lead to the greatest, most meaningful adventure you ever have with your kids.
8 ) A fresh start – Maybe your relationship with one or more of your children is strained or broken.  This Father's Day could be that opportunity to apologize, forgive and try again.
For a more detailed explanation of these 5 ideas plus 5 more, check out the full post Father's Day: Ten Things You Should Ask Your Kids For
One more gift you can ask your kids for (or wives can give to their husbands), the All Pro Dad book by Mark Merrell, founder of All Pro Dad and Family First.
What do you think of these gift ideas?  What are you hoping to get for Father's Day?  Or give to your your dad?