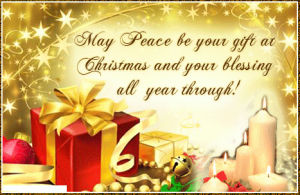 Spread some Christmas joy this season by sharing some of these Christmas quotes and lyrics from Christmas carols on Facebook, Twitter or wherever you like.  Thanks to everyone who sent me suggestions via Facebook and Twitter.
A lovely thing about Christmas is that it's compulsory, like a thunderstorm, and we all go through it together. -Garrison Keillor (via @lindyireland)
Never worry about the size of your Christmas tree. In the eyes of children, they are all 30 feet tall -Larry Wilde (via @p_toi)
He who has not Christmas in his heart will never find it under a tree. -Roy L. Smith (via @txwikinger)
It is Christmas in the heart that puts Christmas in the air. -W.T. Ellis (via @txwikinger)
It is not the gift, but the thought that counts. -Henry Van Dyke (via @Avi8trgurl228)
Christmas is a necessity. There has to be at least one day of the year to remind us that we're here for something else besides ourselves. ~Eric Sevareid (via @Avi8trgurl228)
Christ makes it Christmas. -Kimberly Reynolds @qwikrme_
He who has not Christmas in his heart will never find it under a tree. -Roy Smith (via @ptarkkonen
A pirate is for life, not just for Christmas. -unknown (via @CaptRobLee)
Christmas is not a time or a season but a state of mind. To cherish peace and good will, to be plenteous in mercy, is to have the real spirit of Christmas. -Calvin Coolidge (via @philip10khor)
Christmas is doing a little something extra for someone. -Charles Schulz (via @tygrebright)
Christmas is a time to remember with gratitude the joy and wonder of my childhood. More importantly it is a time to reflect on the pain and sadness suffered buy those children not so fortunate as myself who are barely existing in our overcrowded and violent world. -Richard Townsend (@rictownsend)
I once bought my kids a set of batteries for Christmas with a note on it saying, toys not included. – Bernard Manning (via @Iceburner)
Jesus is the reason for the season. (via @64rdb64)
Christmas waves a magic wand over this world, and behold, everything is softer and more beautiful. -Norman Vincent Peale (via @sallykwitt)
Silent night, holy night, All is calm, all is bright, Round yon Virgin Mother and Child, Holy Infant so tender and mild, Sleep in heavenly peace, Sleep in heavenly peace. -Silent Night (via @TiaanJonker)
He rules the world with truth and grace, And makes the nations prove, The wonders of His righteousness, And wonders of his Love -Joy to The World (via @TVisio)
If we think of our heart, rather than our purse, as the reservoir of our giving, we shall find it full all the time! -David Dunn
Giving yourself is the greatest gift of all. -unknown
Fear not, for behold, I bring you good news of great joy that will be for all people. -Luke 2:10 (via @neal_diamond)
Christmas is love in action. Every time we love, every time we give, it's Christmas. -Dale Evans (via @jessicastubbs)
The best of all gifts around any Christmas tree: the presence of a happy family all wrapped up in each other. -Burton Hillis
May Peace be your gift at Christmas and your blessing all year through! -Unknown
Christmas is the season for kindling the fire of hospitality in the hall, the genial flame of charity in the heart. -Washington Irving
Gifts of time and love are surely the basic ingredients of a truly merry Christmas. -Peg Bracken
Even as an adult I find it difficult to sleep on Christmas Eve. Yuletide excitement is a potent caffeine, no matter your age. -Carrie Latet
Blessed is the season which engages the whole world in a conspiracy of love! -Hamilton Wright Mabie
When we were children we were grateful to those who filled our stockings at Christmas time. Why are we not grateful to God for filling our stockings with legs? -G.K. Chesterton
Remember This December, That love weighs more than gold! -Josephine Dodge Daskam Bacon
A Christmas candle is a lovely thing; It makes no noise at all, But softly gives itself away. -Eva Logue
Christmas is not as much about opening our presents as opening our hearts. -Janice Maeditere
This is the message of Christmas: We are never alone. -Taylor Caldwell
Christmas is a time when people of all religions come together to worship Jesus Christ. -Bart Simpson
The Supreme Court has ruled that they cannot have a nativity scene in Washington, D.C. This wasn't for any religious reasons. They couldn't find three wise men and a virgin. -Jay Leno
I heard the bells on Christmas Day; their old familiar carols play, and wild and sweet the word repeat of peace on earth, good-will to men! -Henry Wadsworth Longfellow
Let us keep Christmas beautiful Without a thought of greed, That it might live forevermore To fill our every need, -Ann Schultz
That it shall not be just a day, But last a lifetime through, The miracle of Christmastime That brings God close to you. -Ann Schultz
This year, may your Christmas truly be white instead of leaving you in the red. -unknown
Christmas is most truly Christmas when we celebrate it by giving love to those who need it most. -Ruth Carter Stapleton
"Maybe Christmas," he thought, "doesn't come from a store. Maybe Christmas… perhaps… means a little bit more." -Dr. Seuss
Glory to God in the highest heaven, and on earth peace to those on whom his favor rests. -Luke 2:14
Bless us Lord, this Christmas, with quietness of mind; Teach us to be patient & always to be kind. -Helen Steiner Rice
Christ was born in the first century, yet he belongs to all centuries. He was born a Jew, yet He belongs to all races. He was born in Bethlehem, yet He belongs to all countries. -George W. Truett
If you hitch your wagon to a star, be sure it's the Star of Bethlehem. -Spencer Walton
Let's approach Christmas with an expectant hush, rather than a last-minute rush. -unknown
Wise men still seek Him. -unknown
Little Baby, I am a poor boy too, I have no gift to bring, That's fit to give the King, Shall I play for you, On my drum? -Little Drummer Boy
All Hail! Lord, we greet Thee, Born this happy morning, O Jesus! for evermore be Thy name adored. Word of the Father, now in flesh appearing; O come, let us adore Him, Christ the Lord.
Do you wonder As you watch my face If a wiser one, should of had my place But I offer-all I am For the mercy-of your plan Help me be strong -Breath of Heaven
A thrill of hope the weary world rejoices, For yonder breaks a new and glorious morn. Fall on your knees! Oh, hear the angel voices! O night divine, the night when Christ was born; -O Holy Night
Which of these quotes or lyrics is most meaningful to you?
Got any others I missed?