Two Steps Forward, One Step Back to Kenya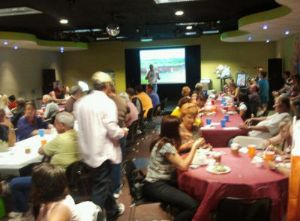 About a month ago, I wrote I Need Your Help to Reach My Dream of Leading a Team to Kenya. Since then a lot has happened, but I haven't done a very good job of telling those stories here. So, let me get you up to speed…
This summer I'm leading a team to Nakuru, Kenya where we are going to spend a week and a half serving at the Springs of Hope Kenya orphanage and a number of other places in the surrounding community. We're going to share God's love and hope with people, and we also want to bring shoes and books and money to help others as well.
The total cost of the trip will be about $3,000 per person.
Hot Chili
May 14th our team hosted a Chili Cook-off and Auction. The event went remarkably well. Well over 100 people participate, the chili was awesome, the live auction was entertaining, the whole evening was a lot of fun and I really appreciated the opportunity to interact with so many people who are supporting our trip. At the end of the night we raised about $5,000 from the event. (Read more and see pics from the Chili Cook-Off and Auction)
From the Chili Cook-off and Auction and other donations supporting the team, we raised about $1,000 per person. We had airline reservations that put our tickets at $2,000 each, with payment due May 23. So each person needed raise $1,000 of personal support.
No-Go for Ainsley
Thanks to the generous support of family and friends like you, Jennifer and I were able to raise enough money for 2 plane tickets. We were looking forward to having our 9 year old daughter, Ainsley, serve along side us in Kenya, but had to make the difficult decision that this would not be the year for that.
Holding: the Most Important Part of the Reservation
Two weeks ago (just days before we were to purchase our tickets), our airline reservations fell apart. Taxes and fees on the tickets went up dramatically and then we were presented with additional fees that would have made the price of the tickets almost $600 more than we were originally told. I felt like I was in strange Seinfeld Twilight Zone ("You know how to take the reservation, you just don't know how to *hold* the reservation and that's really the most important part of the reservation, the holding. Anybody can just take them.")
But through God's provision we were able to purchase airline tickets for the entire team last week for only slightly more than our original reservation. And the flights are much better – through Tampa instead of Orlando, and giving us an extra day in Kenya! Yeah! (Read the whole story airline ticket story)
36 Days to Go…
So, here we are 5 weeks and 1 day away from departure. Each member of our team needs to earn, save, and raise the last $1,000 needed for food, lodging, local transportation, immunizations, and miscellaneous expenses.
We're beginning to gather shoes, clothes, and other items to bring to the orphanage. We're also beginning to prepare our hearts and minds for what we're going to experience in Kenya and how we hope God uses us to bless the people of Nakuru. I'll write more about those aspects of the trip over the coming weeks.
3 Ways to Help
Not everyone can go on a trip to help others like this, but everyone can make a difference. There are 3 simple, yet important ways you can help: pray, give, and share (this post on Twitter and/or Facebook).
Thanks for your support!