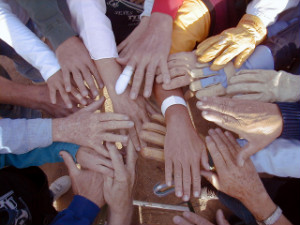 In an effort to help Live Intentionally readers reach their dreams and inspire others, I've invited you to share your dreams. Every Friday I'll feature another reader & their dream. Today's post is by Ed Cyzewski…
My friend was burned first. She had been a faithful nursery volunteer at our church for years, but after giving birth to her second child, she had her hands full and was trying to back off as she entered a new season of her life.
The phone calls continued every week: someone cancelled and they needed her in the nursery.
She eventually left the nursery ministry altogether. Soon we were watching slide shows on Sunday morning of the poor children we'd abandoned.
Not too long after that, I was put in charge of a worship team. I liked the idea of leading worship, but I was in over my head as a manager of a team. To make things worse, I was the face of the youth movement in our church as we switched from hymns to contemporary songs.
I didn't succeed. I had my good Sundays, but eventually I was asked to step aside.
That did it.
While some volunteers in the churches I've attended have received good training and support for their ministries, I found that many more have stories similar to my own and to my friend's. Too many volunteers were burned out from factors such as misguided recruitment, poor training, minimal support, and lack of appreciation.
Oddly enough, certain ministries in our church were very well managed, but volunteers in many other ministries were burning out and falling through the cracks. How can we ensure volunteers are empowered to serve in the areas where they are passionate, trained, supported, and appreciated?
It has been a dream of mine to figure this out and to help other volunteers.
Since then I took an independent study course in seminary on volunteers, conducted a study of a church's volunteer culture, and worked as a volunteer coordinator in the nonprofit world—working with around 200 volunteers. I learned that managing volunteers effectively isn't too difficult, but it does require personal attention, planning, and a degree of flexibility.
However, the problem is that many pastors tend to be big-picture thinkers, lacking in the administrative, nuts and bolts approach that makes an effective volunteer manager. In addition, even if some pastors are strong managers, our seminaries aren't teaching them how to manage volunteers. Either way, our pastors aren't learning the basic skills required to recruit, train, and appreciate volunteers.
My next step in helping volunteers and leaders take positive steps forward in service involves teaching a course on managing volunteers for the long haul this summer at Biblical Theological Seminary outside of Philadelphia, PA. It's my dream that future and current pastors will learn the basic skills they themselves need or that need to be cultivated on their staff.
It's one thing to "equip" Christians with biblical truth. However, any time we work together on a ministry team, whether we're serving food to the homeless or leading worship on Sunday, we need to learn the basic principles of volunteerism and ensure our volunteers will last for the long haul.
Now I'm opening this up to you:
What do you want to know about recruiting and managing volunteers?
If you took a weekend-long course on church volunteer management, what would you expect to learn?