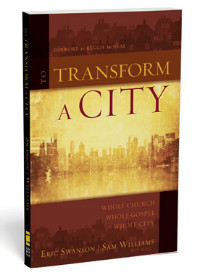 Yesterday, I posted a review of To Transform a City. (Click over to read, discuss, and win a copy for yourself.) Today I've got 45 quotes from the book I hope will inspire you to a greater vision for your city and inspire you to take action.
It's time for the church to call a party… a street party… where the church acts as host and servant.
We have been blessed to bless.
Cities compress and unleash the creative urges of humanity. -Joel Kotkin
There is far more connectivity in the city—financial transactions, knowledge transference, media production—that provides the seedbed for social change.
We believe that God is intentionally bringing the peoples of the world into the cities. What first appears to be a problem, the influx of immigrants to the cities, may actually be a part of God's plan of redemption.
The story line of the Bible may begin in a garden, but it ends in a city.
Those who would transform a nation or the world… must know how to kindle and fan an extravagant hope. -Eric Hoffer
Community transformation not only changes the outward appearance of a community but also alters the very character or nature of the community.
Spiritual transformation comes from helping people love God with all of their mind, heart, souls, and strength. Societal transformation comes from helping people love their neighbors as themselves.
We should never underestimate how important an individual believer with a changed heart can be and how much impact he or she can have upon the world.
Serving others changes and transforms the very people who are serving.
What a different message we would convey to the world if the church showed the world an alternative story of a truly transformed life, infused with kingdom values lived out through missional actions. The latest research shows us that although 84% of young people say they personally know a Christian, a mere 15% think they lifestyle of those Christ followers is any different from the norm.
Where is our "street cred" when we preach about having healthy families yet we fail to hold our own families together?
It's important to remember that we don't engage in the needs, dreams, and pains of our communities so that they will become Christians; rather we engage the community because we are Christians. We don't serve to convert, but we server because we have been converted.
Transformation… is more like the North Star than the North Pole—a direction to pursue rather than a destination we arrive at.
If you want to change society then you must tell an alternative story. –Ivan Illich
The only way to change culture is to create more of it… Cultural change will only happen when something new displaces, to some extent, existing culture in a very tangible way. –Andy Crouch
All who want to preach and live like Jesus must place the kingdom of God at the center of their thought and action. –Arias Mortimer
"The Kingdom of God" or Matthew's equivalent, the kingdom of heaven) appears 122 times in the first three Gospels—most of the time (92) on the lips of Jesus. Himself. –Arias Mortimer
Jesus created a compelling and alternative vision called the kingdom of God.
The gospel is much bigger than just a personal relationship with God—the gospel of the kingdom can literally change the world!
The kingdom of God is larger than the church—it is built by people of goodwill working together with people of good faith to accomplish God's agenda.
Historically, the church has drifted to one side of the pendulum or the other—trying to bring the King to people without helping to bring the kingdom, or bringing the kingdom to people while failing to tell them about the King. Both approaches fall short.
Have we co-opted God's story by making faith in Christ the end of a journey rather than the beginning of an adventure? In doing so, we have reduced the gospel to simply a way of escaping from danger, rather than embracing the compelling call to follow Christ into our broken world—a call to adventure?
There is no holiness apart from social holiness. –John Wesley
Transformation can only happen when the whole church takes the whole gospel to the whole city.
It is the responsibility and privilege of the church, the body of Jesus Christ, to bring heaven a bit closer to the people in our world through defining acts of love and service.
Faith void of deeds [is] an opiate that serves to promote complacency rather than a remedy to redeem a broken world. –N.T. Wright
We serve because Jesus serves.
We must never lose sight of the fact that we are kingdom workers, not just community volunteers.
We may have unique opportunities to help [nonbelievers] connect their story to God's bigger story of the kingdom and show them how their passion fits in with God's bigger plan for our world. We may even have an opportunity to introduce them to the King.
Good deeds create an openness to the gospel, while good news creates knowledge of the gospel.
Good deeds are a universal language of love.
The easiest entrance point into someone's life is a simple deed done in kindness. –Steve Sjogren
The key to successful community transformation requires all three sectors—public, private, and social (the church)—working together for the good of the city.
There is no welfare program we can offer that is as effective at changing lives or as empowering to an individual as a full-time job with benefits.
I'm a musician. I write songs. I just hope that when the day is done, I'll have torn a little corner off of the darkness. –Bono
What is our "better (kingdom) story," the life we are inviting our neighbors to be a part of?
Every movement needs a champion.
Let your light shine before men, that they may see your good deeds and praise your Father in heaven. –Matt 5:16
Greatness has more to do with how nonprofits work outside the boundaries of their organizations than how they manage their own internal operations… Great organizations work with and through others to create more impact than they could ever achieve alone. –Leslie Cruchfield and Heather Grant
We believe that the church can effectively partner with any organization that is morally positive and spiritually neutral.
If our goal is to maximize kingdom resources and make the most of our effort, then the best opportunities are found outside the walls of the church, where someone else is already organizing the effort and paying the light bills.
We can never expect too much from God, and we can never ask him for more than he is willing to give—so dream big!
The best time to plant a tree is 10 years ago. The second best time to plant a tree is today.
Which quote(s) did you find most insightful or most inspiring?