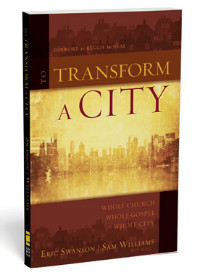 Today we're reviewing, discussing, and giving away To Transform a City: Whole Church, Whole Gospel, Whole City by Eric Swanson and Sam Williams. Keep reading to learn how you can win a free copy.
In To Transform a City, Erick Swanson and Sam Williams call the leaders of local churches to work together to transform their cities, not just spiritually but socially, economically, educationally and more by serving with and within the public, private, and social sectors of their cities.
Swanson and Williams write that for the last 100 years or so, churches in the United States have been internally focused – on personal salvation and growing their number of members. But that is a historical anomaly. Jesus spent much of his time teaching about the Kingdom of God, and that God was already at work making right the wrongs and transforming this broken world we live in. Christianity is not primarily about "saving" people for heaven or building churches, but rather transforming people so that they can transform their communities to look more like the Kingdom of God, where there is peace, freedom, justice, community, health, and less suffering.
The book provides many examples of churches that have joined forces with other churches, government, schools, and social service organizations to transform their communities, and provides guidance for how you can begin to joining together with others to transform your community.
Personal Thoughts
Few books have gotten me as excited as To Transform a City has.
Swanson and Williams cast a vision for both personal and community transformation that is missing from most U.S. churches today. Christians in the U.S. need to hear that we have not just been saved FROM our sins (and are just biding time until heaven) but we have been saved FOR the purpose of joining God in the building of his kingdom here on earth.
A lot of people inside the church in this country are bored because their pastors have cast too small a vision. What is the vision of the typical American church? To grow by 10% To inspire people to become deacons and Sunday school teachers? No offense to the deacons and Sunday school teachers out there, but those roles do not resonate with big-dog leaders, dreamers and risk-takers. Furthermore, a lot of people outside the church have a negative view of Christianity because Christians and their churches have never done anything to serve their communities.
What if instead, our church's vision was to eliminate homelessness in our community, help every 3rd grader learn to read, make sure our communities are free of crime, transform the rundown areas into places of beauty, create thriving businesses that provide good wages and benefits to employees, and care for our widows, orphans, single-moms, and addicts?
And what if because the ways we loved the people in our communities, people who were hurt and jaded in the past by self-centered churches wanted to know what's behind all these people who are serving and sacrificing to make these things happen?
Does that get you excited?
If it does, I encourage you to get a copy of To Transform a City. Read it, discuss it with the leaders in your church, and begin transforming your city. And by the way, it's not just for church leaders, if you're a leader in business, education, government, or social services, you'll appreciate the vision, examples, and strategy provided in the book as well.
Discussion
Do you share Swanson & Williams' "kingdom theology?" Do you believe God is building his kingdom here on earth and He is transforming people not just for heaven but to join him now in kingdom building?
If you're a Christian, does your church have a vision for transforming its community?
What do you think about churches partnering with other churches as well as secular organizations to have a bigger impact in their communities?
Get a Free Book
If you'd like a free copy of To Transform a City, all you have to do is
Retweet this post or share it on Facebook, and
Post a comment addressing one of the discussion questions above  (include your Facebook or Twitter usename in your comment so I can connect your comment to your share/tweet).
I'm gonna try something different this time… the winner will be selected Friday at 4 PM Eastern.  That's 3 days from now. If you want to increase your chances of winning you can tweet/share/comment once a day giving you up to 3 chances to win.
Or you can buy a copy of To Transform a City now.