23 Inspirational Quotes About Dreams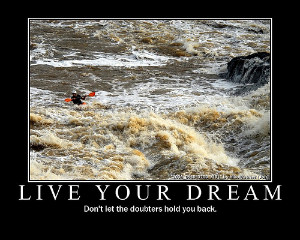 Since I been blogging the last week about the importance of dreams and pursuing your dreams, I thought I'd share with you 23 quotes about dreams to inspire you to live your dreams.
You are never given a dream without also being given the power to make it true. –Richard Bach
[God] deposits a dream of what we can be for Him, a dream that acts as our internal honing device. –Wayne Cordeiro
An entire nation shook under the power of one man's [MLK's] dream! Now if one dream can do that for our nation, imagine what a dream can do for the Church. –Wayne Cordeiro
[Your] dream will challenge, prod and haunt you until you surrender to its call. –Wayne Cordeiro
So long as breath remains in our lungs, untapped potential lies inside us, waiting to be released. The reason we are still alive is that we are carrying something inside us that this generation needs. That's why we're not yet in heaven. –Wayne Cordeiro
Help others achieve their dreams and you will achieve yours. –Les Brown
The promise of a dreamer's future will always remain greater than their present ability. God will always give them dreams that are further along than their current level of maturity. –Wayne Cordeiro
Unconditional love, freely expressed, builds greenhouses for young dreamers. –Wayne Cordeiro
Those who believe that everyone has a God-given dream just waiting to be released will see a world full of wonderful potential. –Wayne Cordeiro
God has a dream for each person, but that dream comes unassembled. –Wayne Cordeiro
It's never too late to act on your Dream! -Bruce Wilkenson
Your big dream always lies outside your comfort zone… U have 2 choose between ur dream & comfort. -Bruce Wilkenson
Your dream is beating in your chest. Do you feel it? -Bruce Wilkenson
The way of the dreamer is difficult, but anything less is hardly living at all. -Bruce Wilkenson
You see things; and you say, "Why?" But I dream things that never were; and I say, "Why not?" -George Bernard Shaw
Don't be pushed by your problems. Be led by your dreams. -Unknown
You are never too old to set another goal or to dream a new dream. -C.S. Lewis
You block your dream when you allow your fear to grow bigger than your faith. -Mary Manin Morrissey
"Do not lose hold of your dreams or aspirations. For if you do, you may still exist but you have ceased to live. -Henry David Thoreau
Yesterday is but today's memory, tomorrow is today's dream. -Kahlil Gibran
Dream and give yourself permission to envision a You that you choose to be. -Joy Page
The future belongs to those who believe in the beauty of their dreams. -Eleanor Roosevelt
We all have dreams. But in order to make dreams come into reality, it takes an awful lot of determination, dedication, self-discipline, and effort. -Jesse Owens
Are any of these quotes particularly meaningful to you?  Got any other quotes about dreams to share?