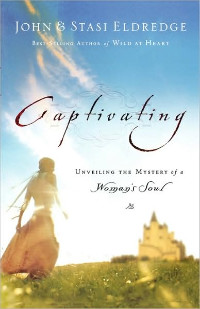 Captivating: Unveiling the Mystery of a Woman's Soul by John and Stasi Eldredge is for women, what John Eldgedge's best-selling book, Wild at Heart is for men.
"Every woman I've ever met feels it – something deeper than just the sense of failing at what she does.  An underlying, gut feeling of failing at who she is." In Captivating, the Eldredges attempt to explain the very nature of what it means to be a woman:  "Every woman in her heart of hearts longs for three things: to be romanced, to play an irreplaceable role in a great adventure, and to unveil beauty."
The book goes on to explain the way sin has impacted women, and the ways women are often wounded by their parents, society's expectations, the church, men, spiritual attacks, and their own defense mechanisms.  It provides hope and a path to healing and wholeness.

Favorite Quotes
The vast desire and capacity a woman has for intimate relationships tells us of God's vast desire and capacity for intimate relationships. (P 29)
Christianity changes dramatically when we discover that it, too, is a great romance. (P 30)
Beauty is the essence of God. (P 35)
Little boys want to know, Do I have what it takes?  Little girls want to know, Am I lovely? (P 47)
When a man goes bad, as every man has in some way gone bad after the Fall, what is most deeply marred is his strength.  He either becomes a passive, weak man—strength surrendered—or he becomes a violent, driven man—strength unglued.  When a woman falls from grace, what is most deeply marred is her tender vulnerability, beauty that invites to life.  She becomes a dominating, controlling woman—or a desolate, needy, mousy woman. (P 51)
Women who are stunningly beautiful are women who… love truly and honestly without demanding that they be loved in return. (P 145)
All women are uniquely gifted to heal others in their lives become more of who they truly are—to encourage, nurture, and mother them toward their true selves. (P 179)
There is a mighty strength and fierceness set in the hearts of women by God… Women are warriors too. (P 188)
Jesus is extending his hand to you.  He is inviting you to dance with him.  He asks, "May I have this dance… every day of your life?" (P 220)
Personal Thoughts
There is great disagreement in our society as to the essence and role of women.  So, any book that attempts to define and describe those things is guaranteed to be controversial and met with criticism.
John and Stasi Eldredge claim "every woman in her heart of hearts longs for three things:"
1) To be romanced – Every woman wants to be wanted, to be pursued, to be loved.  They are NOT saying a woman is incomplete unless she has a man who wants, pursues, and loves her.  In fact, they specifically say no man can fully satisfy this desire, only God can.

2) To play an irreplaceable role in a shared adventure – Women were not created to be boring, busy machines of routine.  They crave adventure and want to matter just like men do, but they want to pursue adventure and meaning in conjunction with relationships, as an essential part of a team.
3) To unveil beauty – Every woman wants to be beautiful on the outside, but more than that, every woman wants to be beautiful on the inside, and every woman wants to create beauty in this world.  I think we (men especially, but also women) almost completely misunderstand the importance and power of beauty.   Beauty is essentially a vision of things the way they should be.  There is beauty in art, in music, in a garden, in a family laughing together, in an elderly couple holding hands.  Beauty is the holiness and grandeur of God.  A woman's desire to unveil beauty is an innate desire to reveal the glory of God.
Obviously, I am not a woman, and to be honest, I don't have the courage to say I understand the mysteries of a woman's soul.  But there is something about each of these desires that resonates with what I know of the women in my life.
There's a lot more in Captivating, particularly dealing with the wounds and brokenness all women deal with.  I think women will find it tremendously insightful and encouraging.  And I also recommend it to every man who wants to understand women better.  My wife, Jennifer, and I are going to read through the book together and discuss it.
Discussion
Do you agree with the Eldredge's claim that every woman longs to be romanced to play an irreplaceable role in a great adventure, and to unveil beauty?  Why or why not?
Do you think our culture more encourages women to be who God created them to be or pressures them to be what they were never intended to be?  Why?
(Sorry, I don't have an extra copy of Captivating to give away, but you can pick up a copy here on Amazon.)