Win a Copy of Everyone Communicates, Few Connect by @JohnCMaxwell #ECFC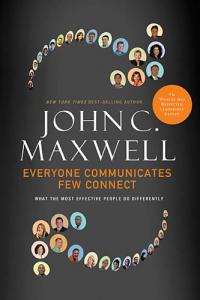 Today I'm reviewing, discussing and (thanks to the good folks at Thomas Nelson) giving away a free copy of John Maxwell's latest book Everyone Communicates, Few Connect. Keep reading to learn how to win a copy for yourself.
John Maxwell's new book, Everyone Communicates, Few Connect, provides insight into how to connect with people one-on-one, in a group setting, and with an audience.  We've all experience good communicators and bad communicators in all three settings.  We feel connected to good communicators.  We feel disconnected from poor communicators.  Maxwell believes that connecting with people is more skill than natural talent.  In this book, he helps the reader understand how to develop the skill to become a better connector and thus a better communicator.
My first impression of Everyone Communicates, Few Connect was that there's really not much new in it.  Connecting with others comes from putting others first, finding common ground, confidence, energy, simplicity, authenticity, creating a memorable experience, and inspiring people.  It's common sense.
But the more thought about it, the more I realized most people – including me – really don't connect well with others.  For some people it's because they lack the skills Maxwell describes.  For most us, though, I think it's because we sell ourselves short.  Most of us don't think we're good communicators – we think we lack the natural talent or personality – so we don't put in the effort, initiative, creativity, or thought to become better communicators.
If that sounds like you, if you don't think you connect well with others or communicate well, I would encourage you to read this book.  I think it will inspire you and show you that you can become a better connector and communicator.
Favorite Quotes
Connecting Increases your influence in every situation.
"Nothing in life is more important than the ability to communicate effectively." Gerald Ford
Connecting is all about others.
To add value to others, one must first value others.
You don't need to be gorgeous, a genius, or a masterful orator to possess presence and to connect with others.  You just need to be positive, believe in yourself, and focus on others.
Words are the currency of ides and have the power to change the world.
Connecting always requires energy.
"Introverts can exhibit extroverted behavior – [however] it really drains us and we need to recharge sooner than an extrovert." Laurinda Bellinger
Connecting is more skill than natural talent.
If I had to pick a first rule of communication… look for common ground.
The measure of a great teacher isn't what he or she knows; it's what the students know.
Connectors create an experience everyone enjoys.
People connect with stories not statistics.
Connecting isn't primarily about learning to become a better presenter.  It's about becoming the kind of person others want to connect with.
Connectors inspire people.
What they know + what they see + what they feel = inspiration
The true test of inspiration is action.
Connectors live what they communicate.
When you make a commitment, you create hope.  When you keep a commitment, you create trust.
You can learn to increase your influence in every situation because connecting is more skill than natural talent.
Personal Thoughts
I am somewhat introverted.  I'm also a pretty even-keeled person, not particularly emotional or dynamic.  That's just the way I'm wired up.  Because of that, I've always thought I was not a particularly good connector or communicator (at least not in person) and I never would be.  I figured I just didn't have the talent or the personality for it.
So, my biggest take-away from Everyone Communicates, Few Connect is… being a good communicator is ultimately a choice.
Maxwell writes, "Connecting is more skill than natural talent."  If that's true, then whether I connect well with others comes down to whether I choose to develop the skills to connect, and then whether I choose to use those skills.
Will I prepare for that person, group, or audience on my schedule (even when I'm not an official leader)?  Will I take the initiative to engage with people?  Will I focus on the other person (or people) and listen, ask questions, find common ground, and try to add value to them?
I must admit that in the past my answers to those questions was often, "No."  I just didn't feel like it.  Didn't want to expend the energy.  I would wait for other to try to connect with me.  I could attribute that to being a low-energy, introverted person, and give myself a pass.
I can't do that anymore.
After reading Everyone Communicates, Few Connect and reflecting on some of my interactions with individuals, groups, and audiences I realize in many cases I could have connected a lot better if I had chosen too.   Of course, I can't change the past.  But I can – and will – choose to connect from this point forward.
Discussion
Do you consider yourself to be good a communicating and connecting with other people?
Do you believe that connecting with others is more skill than talent?
What is your biggest hindrance from connecting with others?
What could you do to overcome that hindrance and connect better with others?
Get a Free Book
If you'd like a free copy of Everyone Communicates, Few Connect, all you have to do is
Retweet this post or share it on Facebook, and
Post a meaningful comment to this post that contributes to the conversation (include your Facebook or Twitter usename in your comment so I can connect your comment to your share/tweet).
One person will be randomly selected the morning of Wednesday 4/7 to receive a free copy.