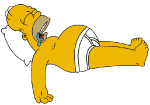 Sorry I've been lax in blogging lately.  Just extraordinarily busy with work, family, and church.  Saturday I ran the same 11-mile loop through several parks as I did last Saturday.  Only this time thanks to the online route mapping sites brought to my attention I knew it was 11 miles and so I didn't quit 2 miles early.  But perhaps the biggest thing impacting my training these days is lack of sleep.
My Kids Stole My Z's
I have a 7-month-old daughter who we wake up at 10:30 PM to give one last bottle in the hopes she'll sleep all the way through the night.  I also make breakfast and help get my four and six year old ready for school.  So, I can't go to bed before eleven and I have to get up at five to have enough time to run and cool off breakfast duty calls.  So, best cast scenario I get 6 hours of sleep before a run and usually it's closer to 5.
Fantasy Football Does Me In
Then comes last night… opening weekend of the NFL season… I've been a part of a fantasy football league with my wife's family the last several years.  This weekend I was matched up against my father-in-law, the defending champion.  I'm losing by 32 points (112-80) after Sunday but I've got Frank Gore, Edgerin James, and Chad Johnson while my father-in-law has Carson Palmer.  In the first Monday Night Football game Palmer and Johnson each put up 15 points, so I'm still down by 32 with just 2 players left.
The second MNF game starts at like 10:30 PM, so I decide I'll just watch a little bit of it.  Gore and James both score TDs in the first quarter and all of the sudden I'm only down by 10.  Before I know it it's half time… and midnight… I'm so close to pulling off the come back… I'll just stay up a little longer… plus do a little work while I'm up and that will save me time tomorrow…  end of the 3rd quarter… 1 AM… only down by 6… come on, somebody just score a TD so I can go to bed… short run here, short run there… next thing I know I'm waking up on the couch and it's 1:45 AM… the last few seconds tick off the clock… I check my computer… Dale 127 – Paul 125 🙁
3 Hours Later…
And the worst part was waking up 3 hours later and running 5 miles.  I swear there were several times during the run where I would see a nice lawn and think to myself, "You know, if I were to lay down there I bet I would be asleep inside of a minute."  But I didn't quit. Ran the whole 5 miles.  Don't remember the time but I think it was a minute or two slower than last week.
Sleep Factor
So, my questions for today are…
How much does sleep (or lack there of) impact your performance?
Do you do anything special to ensure a good night's sleep when you have a run the next day?