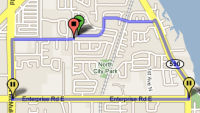 Saturday morning I was getting ready for my long run – 11 miles this time.  Last week I did a 10 mile run by running a 3.3 mile loop three times so I could grab a bottle of water left in front of my house after each lap.  I looked at an online map for a way to extend the first loop by a mile.  Then I said to myself, "I'm bored with running this same loop over and over," and on a whim decided I would run through two of my favorite local parks.
I was able to find distances for the parts of the run that followed roads but not for the parts that went along trails and through the parks.  I estimated the total distance would be somewhere between 11 and 13 miles and figured if ended up being a little more than my 11 mile goal it would be no big deal.
Well, it was about 80 degrees and 90% humidity when I headed out at 6 AM.  I could see clouds and lightening in the distance around me.  The change of scenery was nice.  I saw a large owl perched in a tree along one trail.  Several mile of the run were along Tampa Bay which provided a great view, thought the clouds prevented me from seeing the sunrise.  There were several water fountains along the route and lots of other runners as well.
Unfortunately, I underestimated either the distance of the route or my ability to cover it on 5 hours of sleep.  I pushed pretty hard, but when I finally stopped I was still more than 2 miles from my house and had to walk back.  I still don't know how far I actually went.
Google Maps
Prior to Saturday I'd been using Google Maps to chart out my routes and figure their distances.  The cool thing about Google Maps is that you can click on the route and drag it to a new street.  It instantly updates the route and shows you the new distance.  This is great way to quickly experiment with different routes to get the precise distance you're looking for. 
By the way, Google Maps also allows you to embed a map into a web page as I've done below, but the embedded map doesn't have the ability to move and adjust the route.
However, it only works if you're running along roads.  If you run on trails, through parks, or on new roads that aren't in Google maps, you're stuck.  So, I'm wondering… are there any online tools out there for creating routes and figuring distances off-road?  How do you figure the distances of your runs?
Gmaps Pedometer (Added 1:30 PM)
Special thanks to "Squirrel 1.1" over on the Runners World Forums who pointed me to Gmaps Pedometer. This site uses Google Maps as the underlying technology and allows you to plot an off-road course. Like Google Maps it allows you to switch between map, satellite, and hybred views. It also puts mile markers along the route. So, here's a link to my route from Saturday and here's a screenshot.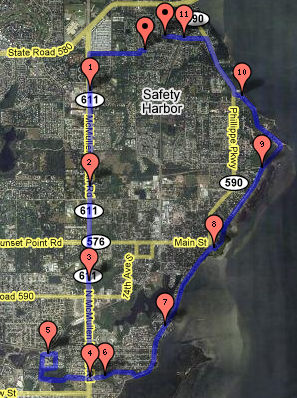 Now if I could just get Google to update it's maps and satellite imagery to show the Kapok Environmental Wetlands Park which replaced a mobile home neighborhood. The park was completed almost 2 years ago but the mobile homes are still on both the map and satellite view.
Forum Discussion (added 9/10)
Online route-mapping tools turned out to be a pretty hot topic in forums where I asked about them:
http://www.coolrunning.com/forums/Forum3/HTML/051764.shtml
http://forums.runnersworld.com/eve/forums/a/tpc/f/960108738/m/8551099933
http://runningtimes.com/forum/showthread.php?t=6278
In addition to Gmaps Pedometer, these sites can also be used to map out runs.
http://www.walkjogrun.net
http://www.usatf.org/routes/map/
http://www.mapmyrun.com
http://www.runningahead.com
http://www.runstoppable.com