Catholic Priest Responds with Why I Love Religion, And Love Jesus Video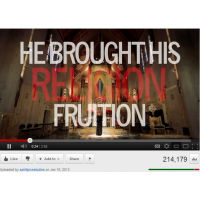 A couple weeks ago I posted the spoken word video Why I Hate Religion, But Love Jesus, which has now surpassed 16 million views.  Catholic priest Claude (Dusty) Burns aka Fr. Pontifex responded by creating a video of his own titled Why I Love Religion, And Love Jesus.  He makes some great points, so in the interest of equal opportunity, have a look.
The truth is religion without Jesus is dead – like a car without an engine. But Jesus without religion (without church, discipline, charity,  purity, service, etc) is impactless – like an engine without a car.
I think it's great the way both videos have stirred thought and conversation about Jesus and religion. What do you think?