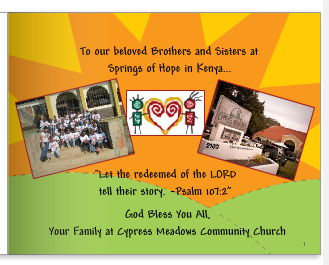 This past Sunday our Kenya Missions Team and the kids in my church wrote down their stories and had their pictures taken for a Story Book we are creating and taking to the Springs of Hope Kenya orphanage next week.
The idea we're trying to convey to both our kids here in Florida and the Kids in Kenya is that God wants to tell a great story through each one of us. Our past is history. Our future is a mystery. And each new day is a blank page, a clean sheet of paper, on which God wants to write a beautiful love story and a daring adventure.
Below are my family's pics & stories. You can read more about the story book on the Kenya Trip blog.  Major props to Connie Roeleven who created the story book!