Help Emilda Achieve Her Special Olympics Dream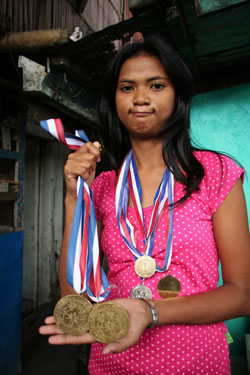 Emilda is an 18 year-old child sponsored through Compassion International. She lives in a squatter community in the Philippines. When Emilda was 2 years old she had a convulsion from high fever. She was unconscious for six days. After she woke up she never responded to people in a normal way. Today she has the mental capacity of a 3 year old.
But she's fast!
In 2009 Emilda competed in the Philippine Special Olympics and she performed well enough to qualify for the World Special Olympics in Athens, Greece this Summer. But she needs your help if she's going to reach her dream of competing in Athens.
Emilda's parents are unable to pay her way to Greece and neither is the Philippine government. Her need is $19,857.
You can read more about Emilda's story here.
And if you'd like to help support Emilda, you can make a donation here.
Remember, a lot of people doing nothing results in nothing, but a lot of people doing even just a little can accomplish a lot.