The Ultimate Trade Up: A Paperclip for a House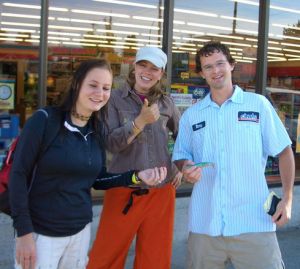 Writing Things You Don't Have Time NOT to Do: 3) Trade Up brought to mind one of the most interesting stories of trading up to achieve a dream I've ever come across.
Several years ago, Kyle McDonald was a young Canadian guy with a dream of owning a house. Only problem was about the only thing he had was a paper clip. Now it wasn't just an ordinary paperclip, it was big… and red. But yes, it was still a paperclip. However, he also had a crazy idea…
I'm going to make a continuous chain of 'up trades' until I get a house. Or an Island. Or a house on an island. You get the idea.
And so he traded up… a paperclip for a fish pen… fish pen for a door knocker… and so on through a series of trades that included an afternoon with Alice Cooper, a recording contract and eventually a house in Kipling, Saskatchewan. Canada.
You can read all about the trades on Kyle's blog or in his book One Red Paperclip.
Perhaps even more significant than achieving his dream were the adventures he had along the way. The trades took him all over North America, put him on radio and TV, and introduced him to people he otherwise would never have met. As they say, it's the journey, not the destination.
I hope his story helps inspires you to start trading up.