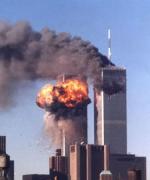 Today marks the seventh anniversary of the 9/11 terrorist attacks on the World Trade Center and the Pentagon, and the failed attempt that resulted in the crash of Flight 93 in Pennsylvania.
In some ways it's hard to believe it's been 7 years.  I, like most Americans, remember exactly where I was and what I was doing when I first heard about the attacks.  I remember standing in front of the TV watching the images in disbelief throughout the remainder of the day.
Mostly though it seems like eons ago…
I had just recently become a father for the first time.  Ainsley was only 2 months old at the time.  Now she's in second grade and has two younger siblings.
Do you remember what life was like 7 years ago?
Remember how we realized life is short and as a result took the time to tell our loved ones how much we love them?  Now we're mostly back to racing through the busyness of life.
Remember how we came face to face with our own vulnerability and mortality and we turned to God for peace and security?  Now we're mostly back to our materialistic was living for the next vacation, the next purchase, the next cool i-whatever gadget?
Remember how the whole country was united in mourning and united in our resolve?  Now we're back to partisan bickering and parsing phrases about lipstick.
As we reflect on September 11, let's not only remember those who were lost on that day, but let's remember the lessons we relearned on that day, the values that became clear, and which we have gotten fuzzy on again… life is short… people matter most… real heros are those who sacrifice for others… genuine peace only comes from God.