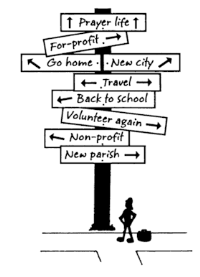 Unless you've been living under a rock (or outside of the U.S.) since the turn of the century, you probably know the United States has become a "post-Christian" society. A couple of generations ago, most Americans were Christian. A generation ago, fewer Americans were Christian but nearly everyone was still familiar with the Bible and Christian concepts because their parents took them to church when they were children. Today, however, most young adults are ambivalent to Christianity and not even familiar with basic biblical/Christian concepts.
This presents a challenge to Christians and Christian churches. We have to come to terms with the fact that most people seeking God and even many new Christians do not know what it means to be a fully-devoted follower of Jesus. Yes, some Christians/churches do cast a clear vision for initially becoming a Christian, a vision of a loving God, forgiveness, and eternal life in heaven. But where is the vision for what lies beyond that first step of faith?
So, I challenge you to answer these 3 questions in a way that someone seeking God with no Biblical background can understand.
1) What does a fully-devoted/mature/genuine Christian look like?
2) Why would I want to become a fully-devoted/mature/genuine Christian?
3) How would I become a fully-devoted/mature/genuine Christian if I wanted to?
If you are a pastor or Christian leader, I'd like to hear your answers because you should be clearly communicating this to the people you lead. If you are not a Christian or a relatively new Christian I'm intrested to hear your answers because it will help me understand what you're hearing.