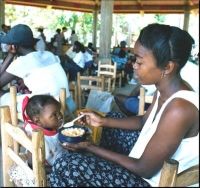 One of the principles I try to live my life by is to put God first, others second, and myself last.  (If you don't believe in God, substitute "principles" for "God" and I think you can still go along with this.)  Last week, this principle was challenged as my wife, Jennifer, and I read and discussed an excerpt from Night Light a book designed to help couples grow closer together spiritually.  The story we read is called "I'm third" and describes how in 1958 Captain John T. Ferrier of the Air National Guard's Minute Men jet precision team sacrificed his own life by intentionally crashing his plane between houses to avoid killing anyone on the ground instead of bailing out.  Later they found a card in his wallet that simply said "I'm third."
The story and subsequent discussion challenged us to live more sacrificially for other people, putting their needs ahead of our own.
As a mother of 3 children under the age 7 who stays home with them most days, Jennifer is practically forced to live a life of "I'm third."  From getting up early with our 6 month old, Aryn, to getting our 4 year-old, Aidyn, and 6 year-old, Ainsley ready for school, to driving everyone where they need to go, to the constant afternoon clamor of "I'm hungry!  I'm thirsty," to making dinner, and right on through the kids bed times.  It often feels like 15 straight hours of putting others needs ahead of her own.
Is that how we're supposed to live?
Can we really be expected to put our own needs on the back burner 100% of the time?
I think not.
If you drive a car continuously thinking you don't have time to stop for gas, you'll eventually run out of gas and you'll waste a lot more time sitting on the side of the road waiting for help than it would have taken to top and fill your tank.  That's a no-brainer, right?
The importance of other kinds of maintenance may be less obvious.  You can go beyond the recommended 3,000 miles between oil changes and your car won't die instantly, but if you never get the oil change or repeatedly go 6,000 or 10,000 miles parts will start to wear out.  If you want to be efficient on the road and avoid major breakdowns you have to make the upkeep of your car a priority.
The same is true in life.  If you really want to be third and put God and others ahead of yourself you actually have to put yourself first.
This is why I believe it's vital to take personal time first thing every morning to do the things that will sustain you throughout the day mentally, physically, spiritually, and emotionally.  Things like exercise to keep you physically fit, reading something to keep you mentally fit, and spiritual habits like prayer to stay spiritually fit.
Too often we skimp on these things.  We think we're too busy doing other things to keep ourselves in top shape.
We may even spiritualize or romanticize this notion thinking that sacrificing our own personal maintenance is somehow noble.  But think about it… are you really putting others ahead of yourself if you allow yourself to flame out? 
One of the best thing you can do for the people around you is to give them a healthy, fully-energized, fully-tuned-up self.