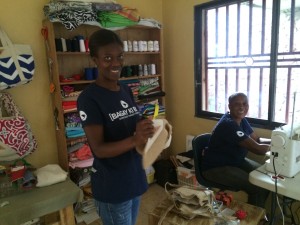 This past Saturday our family hosted the 18th annual Steinbrueck Oktoberfest.
Every year we do something to help a charitable organization that is doing amazing things in this world.
This year we had the opportunity to make available for sale, Bagay Ki Bon bags made by a group of women who work at the House of Blessings orphanage in Haiti.  These women are able to earn a living sewing beautiful bags and some of the proceeds go to support the kids and staff at House of Blessings.
Two weeks ago, I had the opportunity to spend a week at House of Blessings.  (Pics and stories from House of Blessings Hait trip.)  The kids and staff there were awesome!  I had a chance to meet some of the women who sew theses awesome bags.  And we brought back 2 suitcases full of bags to sell back here in the U.S.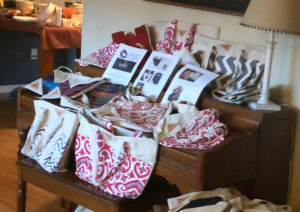 Jennifer had the last minute idea to make the bags available at Oktoberfest. It turned out to be a great idea as our generous 'festers purchased $500 of bags.
Thanks to everyone who purchased a bag or donated to House of Blessings!
If you're interested in purchasing bags, you can do so at bagaykibon.com  (They make great Christmas gifts, hint, hint)