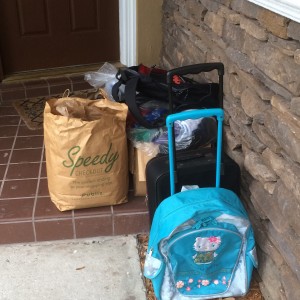 It's hard to believe it's only 2 days until our team will be leaving for House of Blessings in Haiti.  A few updates I wanted to provide…
Awesome Packing Party!
We had an awesome packing party after the worship service Sunday!  We packed at least 400 pounds of peanut butter, canned chicken and tuna, school  supplies, shoes, and clothes. We did the drawing for the raffle. And we prayed.  See pics and stories here.
Thanks for the donated supplies!
Thanks to everyone who brought shoes, clothes, etc.  We could possibly take 200-400 pounds of additional supplies if we get suitcases and money for bag fees. So if you have a big, old, warn suitcase you don't mind parting ways with, let me know.
Thanks for your support!
Between the GoFundMe page I set up and the offline support through checks, I've raised $645 of the $1,000 needed for the trip. A portion of the $2,300 our team raised through the raffle will also go towards my part of the trip. So, I'm close to fully funded.  It's been awesome to see how God has provided!!! Thanks to all who have supported this effort financially!
If you'd still like help support House of Blessings, our trip or me, you can still mail a check or donate through the GoFundMe page.
Prayer and Updates While in Haiti
While in Haiti, I will be blogging and sharing pictures on the Journey Community Church blog. I probably will not also blog here on LiveIntentionally, so if you'd like to receive our daily updates, please go to the Journey blog and subscribe on the right side of the page.
Got any questions or comments about House of Blessings or our trip?  Post 'em in a comment below