God is leading Jennifer and I and our family to be a part of Journey Community Church, which means we are moving on from Cypress Meadows Community Church, the church we've been a part of for the last 17 years.
Why?
First let me give you some background…
One of the crazy things about being a Christian is you never know where God is going to lead you.
We tend to not like that attribute of God very much.
Many of us would prefer to reduce God to predictable systems. Do's and don'ts. Bright lines that divide who's in and who's out. Five simple steps to spiritual vitality. One right way to do church. This is called legalism (aka religion).
Others of us prefer to reduce God to irrelevance. Whatever we do is ok as long as it doesn't hurt anyone or makes us happy. Don't expect any help or guidance from God. Just try to be a good person and don't judge others. This is called libertinism.
But the God of the Bible is neither legalistic nor libertine. He is relational. More than anything, he wants to have a rich, interactive, trusting, adventurous relationship with each of us.
There are certain spiritual truths that are universal…
These are true for all people at all times. We are all loved by God. We all mess up (sin) and are incapable of making things right with God on our own. We are all in need of a savior, Jesus, who died in our place to pay the penalty for our wrongs, and provides a means for us to be forgiven and reconciled with God so we can do both this life and the next with Him. Once we are reconciled with God, he begins to transform us to and gives us opportunities to be a part of his work in this world.
But within these spiritual truths, there is great variety and mystery…
God made us each unique. He gives us each a different personality, different gifts, different passions, and different circumstances to live through. As a result…
…each of us has a unique spiritual journey and a unique place in this world.
God gives us a lot of guidance through the bible, but he doesn't tell us everything we need to know because he wants us to listen, follow and depend on Him.
As a result, he calls some people to be teachers, some to be missionaries, some to be nurses,. He calls some to adopt and others to start orphanages in other countries. He calls some to poverty and some to wealth. He calls people to every country, state, city and village in this world.
Just as each of us is unique, so too each local church is unique.
While there are some universals to all Christian churches, each has a unique personality, a unique passion or focus.
For the last 17 years, God aligned my family's passion and personality with that of Cypress Meadows. We got to be a part to some amazing things including serving in Kenya, Costa Rica and post-Katrina Mississippi. We saw God do some amazing things. We saw many people come to faith in Jesus for the first time.
Now God is calling us to be a part of what he is doing at Journey Community Church. After years of meeting at Dunedin Elementary School, Journey is now meeting at the Florida Sheriffs Youth Ranch. Journey is passionately committed to loving, serving and doing life with the 30+ foster kids who live on the Ranch as well as the house parents and staff that serve them.
They are remarkably relational and authentic, welcoming everyone regardless of where they are in their spiritual journey. Sunday worship is done around tables instead of in rows and there's discussion during the service. It's virtually impossible to go to Journey and remain anonymous and disconnected.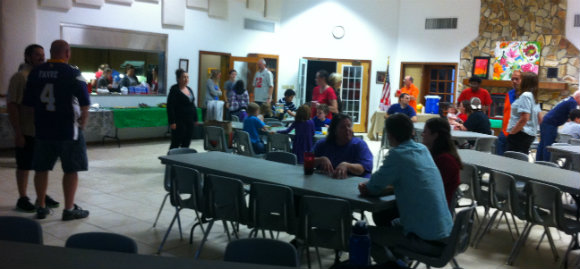 We live in a culture filled with loneliness and broken relationships. Even many of our friends and neighbors who seem fine on the outside are wrestling with big struggles on the inside. Many don't have anyone they feel safe enough to confide in, who will love them unconditionally, and walk with them through the good days and the bad. Journey is a church that is passionate about connecting the disconnected, and doing life together with God.
Coming full circle
The reason I started with all the background thoughts, is because I want you to understand that Journey is where God is calling our family. That doesn't mean it's the best church. (There isn't a "best church" any more than there is a best part of the body.) That doesn't mean it should be your church. (If you're vitally connected with another church, by all means continue there). It's just where God has us for the next season in our spiritual journey.
In closing…
Jennifer and I have a tremendous appreciation for all the leaders and our friends at Cypress. Douglas Poole (Cypress's senior pastor) is a wonderful man, devoted to following Jesus. Cypress is a good church, committed to reaching those far from God with the God news of Jesus. Our prayer is that God would continue to bless and grow the people who make Cypress their church home.
To all of our friends at Cypress, we hope to stay connected . We hope to see you occasionally at Cypress as well – when Molly is in town to talk about Springs of Hope, when friends (or children of friends) are baptized, and perhaps other occasions. Who knows. Perhaps we'll serve together at times if Cypress continues to put on events for the kids at the Youth Ranch.
Let's stay connected with Facebook, texts, phone calls. Let's get coffee, a beer, or lunch some time.