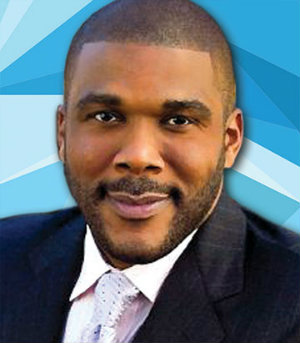 Filmmaker, Actor and Philanthropist
SESSION 7: When Leadership Meets Inspiration
Born into poverty and raised in a household scarred by abuse, Tyler fought from a young age to find the strength, faith and perseverance that would later form foundations of his work
Recipient of the 2004 Black Business Professionals' Entrepreneur of the Year award, he leads a massively successful entertainment empire, employing 350 people from his 30-acre Atlanta studio, with five sound stages and a post-production facility
As a part of his inspiring body of work, including the now-legendary Madea franchise, Tyler has produced, written, and directed a dozen stage plays, five TV series, and 15+ feature films—staring in several of these projects, as well as recently completing a part in David Fincher's next film, Gone Girl
Perry hasn't forgotten about those who helped him along the way, and is intimately involved in supporting charities focused on civil rights, homelessness, and rebuilding the lives of disaster survivors in New Orleans and Haiti
Session Notes
Which skill set comes more naturally – creative or leadership?

I had a rough childhood, spent a lot of time escaping into my imagination.
Father was a sub-contractor building houses… I didn't want to be the man who built the house, I wanted to be the man who owned the house.

How do you split time creating & leading?
If an artist tells you they can't stick to a budget or schedule what do you say?

See you later. I wish you the best with your struggle.

When you go to your writing place, what do you do to push higher levels of creativity?

It's important to me to clear the noise, clear the clutter.

(missed the question)

Sometimes I'll pass over someone more qualified with a poorer attitude for someone less qualified with a better attitude.

Father beat you, mother took you to church, that must have been strange. Speak to that.

My mother was light for me in those moments.
What my mother gave me was my faith in God which has sustained me.

One of the best thing I ever read about forgiveness… it takes an enormous amount of energy to get through a betrayal but it takes just as much energy to forgive.

 You can't just flip a switch and forgive.
Forgiving is the most freeing thing you can do for yourself.

You created the character, Madea, and you use her to very subtly convey messages…

Use the laughter as the anesthesia to get to the difficult message.

You did a movie called Good Deeds… what was the message?

I wanted to show the difference between the haves and the have-nots.
But for the grace of God, it (poverty) could be any of us.

What's your take on the race riots? How do we find our way ahead?

We're so much more alike than different…
My hope is that each generation will be better than the last.

How do you deal with your critics?

I focus on the people who are being positively impacted by my work.
God has prepared a table before me in the presence of my enemies. So watch me eat!

You have a tough time participating in a local church.

When Forbes prints how much money you make, it's difficult to go to a church and not feel the expectations.
Lots of people slipping him notes…
I wish we (celebrities) could just go to church and not be judged.

What kind of legacy do you hope to achieve?

Knowing that I made people feel good.