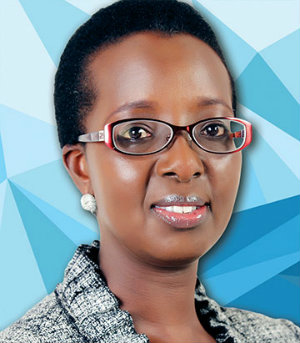 .
Commissioner General, Uganda Revenue Authority
SESSION 6: Heart Session: A Grander Vision
During her 20-year career as a public servant, Kagina has transformed the Uganda Revenue Authority (URA) by taking on corruption, increasing service-orientation and winning awards for innovation
Motivated by a desire to convert Uganda from a borrower to a giver nation, her reforms have led to higher revenue attainment, allowing the government to increasingly fund its national development plan
The URA has become a model public institution for developing countries; Kagina is a sought-after speaker who regularly addresses international forums on resource management
Session Notes
Stats

African was the fastest growing continent in population and GDP
Most African nations will reach middle class status by 2025
Poverty declining.  58% were living on less than $1.2/day, now 48%

God does not know the division between church and politics or between church and business.
Pastor told her "You are an anointed tax collector."
Decided we had to have integrity and be competent.
I terminated everyone – 2 months notice – and reapply for all jobs
Went to tax payers and asked, "What do you want us to do for you?"

don't want to wait in long lines – built online systems
don't understand – teach people their rights &
Front-loaded service and put enforcement, auditing later

Rebranded, did community work
Revenue has grown 314% in 10 years
Organizations used to say don't recruit from the URA. Now I can't keep my people. People from the URA are leading many organizations now.