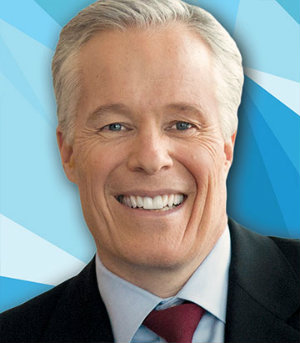 .
Co-Founder, VitalSmarts; Social Scientist for Business Performance
SESSION 5: Mastering the Art of Crucial Conversations
Utilizing a research-based approach to organizational effectiveness, Grenny is the author of four best-selling books including Crucial Conversations, Crucial Accountability, and Influencer: The New Science of Leading Change
A frequent contributor to publications like BusinessWeek and Forbes, he has appeared on The Today Show,CNN, Bloomberg and Fox Business News
VitalSmarts, the training organization he co-founded, has developed four award-winning training solutions with programs in 300 of the Fortune 500 companies and in 36 countries
Session Notes
The power of a group is a function of the purity of its motives.
Are there a few moments of disproportional influence that matter more than others? If so, what are they?
Nurse Bonnie & Dr. Scott interactive exercise.
Crucial Conversations Diagram [triangle]

High stakes
Opposing opinions
Strong emotions

Big Idea #1: Any time you find yourself stuck, stop and ask: What crucial conversation are we not holding or not holding well?

How many of you would like to have fewer crucial conversations? The only way to do that is to have a meaningless life, give up your super-awesome goals.
When conversations turn from casual to crucial – when it matters most – we tend to be at our worst.
How do you behave differently towards someone you're having difficulties with? Probably not helpful.
If you don't talk it out, you will act it out. These are the only 2 options available.
Sam's experiment… made bad brownies (salt instead of sugar)… gave those brownies and a good brownie to kids and ask them which was better… they all pointed to the salt brownies to avoid hurting his feelings. (watch video of the experiment)
Myth: you have to choose between telling the truth and keeping a friend.
It's this believe that causes mischief in all our relationships.
You can measure the level of ??? by the number of untouchable topics.
3 most crucial moments in churches

Performance problems with volunteers or staff.
Members who are struggling in sin or disconnecting from the church.
Concerns with pastors.
65

Crucial conversations are either a pit or a path.
Those churches best able to have these conversations aren't just doing slightly better but exponentially better.
The vital behavior that enables most any positive organizational outcome is CANDOR at moments of acute emotional and political risk.

7 Critical Skills

1) Start with heart
2) Learn to look
3) Make it safe
4) Master my stories
5) State my path
6) 

Explore Others' Path

7) Move to Action

2 tasks in the hazardous half minute

1) Mutual purpose. You know that I care about your goals.
2) Mutual respect. You know I care about you.

People never get defensive about what you're saying. People become defensive because of why they think you're saying it.
Convo w Patrick…

Do you know I love you?
Do you know I would never do anything that wasn't in your best interest?
He replied… I know I need to go to jail. But will you be there for me when I get out?
If we can have conversations about sending a person to jail and keep that person as a friend, we can talk about anything.