Join Me Tomorrow and Friday for the 2014 Global Leadership Summit #GSL14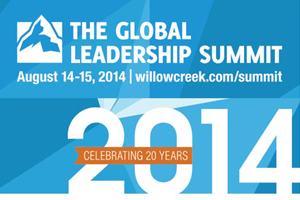 .
Thursday and Friday (Aug 14-15) the Willow Creek Association is hosting its 20th annual Global Leadership Summit.
I'll be participating at the Van Dyke United Methodist Chursch, Tampa satellite site with a group from my church. I'll be blogging my notes live here on Live Intentionally (as I have the previous 6 Summits) and tweeting quotes and highlights (as I have the previous 4) as well.
As usual this year's Summit features a great mix of veteran and emerging leaders from churches, non-profits, government and business:
Bill Hybels – Founder and Senior Pastor, Willow Creek Community Church
Tyler Perry – Filmmaker, Actor and Philanthropist
Jeffrey Immelt – President and CEO, GE
Susan Cain – Best-selling Author; Viral TED Speaker on The Power of Introverts
Wilfredo De Jesús – Senior Pastor, New Life Covenant Church; TIME's 100 Most Influential People 2013
Patrick Lencioni – Best-selling Business Author; Founder and President, The Table Group
Carly Fiorina – Former CEO of Hewlett-Packard; Opportunity Intl. Global Board Chair
Ivan Satyavrata – Senior Pastor, Assembly of God Church, Kolkata, India
Bryan Loritts – Founder and Lead Pastor, Fellowship Memphis
Joseph Grenny – Co-Founder, VitalSmarts; Social Scientist for Business Performance
Allen Catherine Kagina – Commissioner General, Uganda Revenue Authority
Louie Giglio – Pastor, Passion City Church; Founder of the Passion Movement
Erica Ariel Fox – New York Times Best-selling Author; President of Mobius Executive Leadership
Don Flow – Chairman and CEO, Flow Companies Inc.
Here's a 3 minute video intro from Bill Hybels posted to the Summit site last week:
I'm looking froward to learning and being inspired. I'm looking forward to doing it with the team from my church. And I'm looking forward to sharing  and discussing as much as I possibly can here.
Are you participating in this year's Global Leadership Summit?  If so, where will you be and what speakers are you most looking forward to?