Have you ever watched a game – football, baseball, basketball, doesn't matter – where the team that was losing look dejected or started arguing with each other?  At that very moment you knew the game was over even before it was over.
On the other hand, have you been watching a game where your favorite team is down, and then seen the coach or team leaders encouraging and rallying the rest of team and instantly felt optimistic about a comeback?
In sports, it's obvious that having a positive attitude is a big deal.
But attitude is a big deal in every aspect of life – work, family, community organizations, and your own sense of well being.
Whether you think you can, or you think you can't–you're right.  -Henry Ford
I recently had to have a difficult conversation with my 11 year old son about his attitude, specifically as it related to how he responds when he's asked to turn off a video game or help around the house.
He understands the importance of a good attitude because last year he was on a baseball team with some teammates who, whenever they got down on the scoreboard, called each other names and predicted their own demise.  That really frustrated him.
But, he wasn't seeing that at times his attitude within our family was having a similar affect on others.
Isn't that true of all of us at times?
We expect everyone around us to have a good attitude, but we give ourselves permission to grumble and complain when we're having a bad day or feel like circumstances are unfair. Right?
Attitude is a choice and habit…
Often we can't choose our circumstances, but we can always choose our attitude.
Usually, though, our attitude isn't a conscious choice.  Over years, we tend to develop mental habits that lead us to a positive or negative attitude.
But we can retrain our minds by focusing on what we're thankful for… having faith that things will work out…  We can develop the habit of a good attitude.
This is especially important for parents.
Children have much more adaptable brains than adults. They don't have the mental ruts that have been created by years and years of following the same mental paths.
If you have children, like I do, now is the time to help them develop good mental habits that lead to positive attitudes.  And that's why I was intentional about having the conversation I had with my son. (One of many by the way. It's not a one shot deal.)
At the end of our talk, I gave him this poem – Attitude by Chuck Swindoll.  I though you might find it helpful too.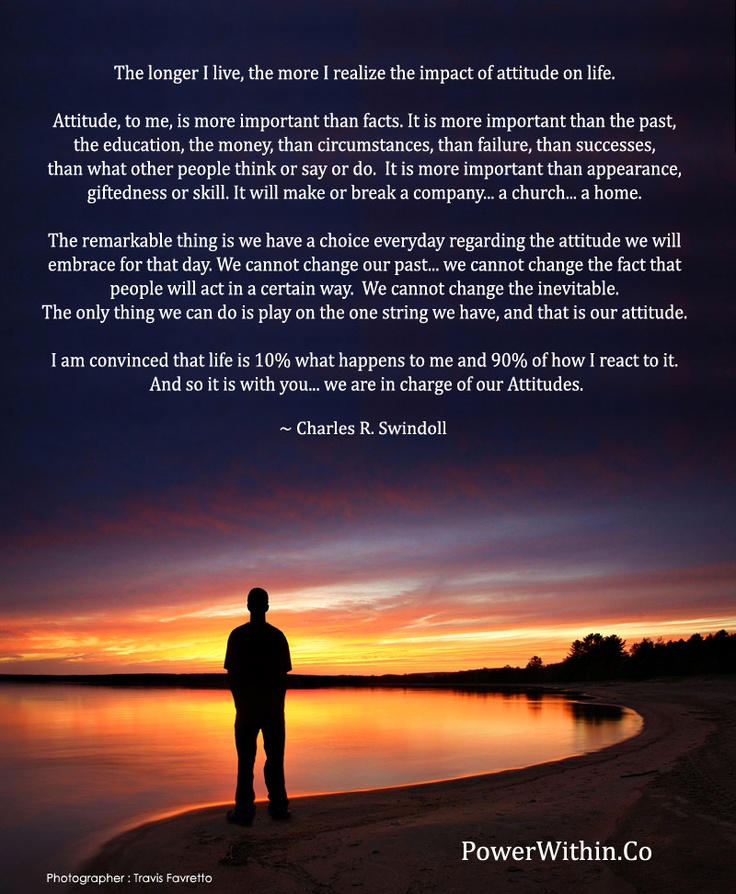 In what way(s) do you think attitude matters?
What are you doing (or going to do) to train yourself to have the mental habits that lead to a good attitude?
If you have children, what are you doing to train them to have good attitudes?
Post a comment and let's take the conversation deeper
(P.S. It's been a while, but I'm testing the blogging waters again. Thanks for coming to read & engage after a long sabbatical)