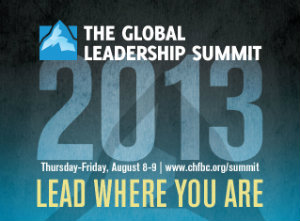 Last week I had the great privilege to once again participate in the Willow Creek Association's Global Leadership Summit.
It was inspiring and insightful!  Intermingled with the great speakers was some excellent music, art, comedy, personal reflection and time between sessions to connect with other people and discuss the sessions.
Every Summit includes a handful of well known leadership experts like Bill Hybels, Colin Powell, Andy Stanley and Henry Cloud. What was really cool about this Summit was that some of the lesser known speakers like Joseph Grenny, Bob Goff, and Brene Brown were most impactful to me.  Kudos to the WCA for continuing to think outside the box and provide a diverse faculty of world-class leaders from all walks of life.
Here are some quotes – highlights – from the 2013 Global Leadership Summit:
Vision is a picture of the future that creates passion in people. -Bill Hybels
Don't die with a hidden vision shriveling up inside of you. -Bill Hybels
Why any senior pastor would keep capable, fired-up women from full deployment in the church is beyond me. -Bill Hybels
People join organizations. They leave managers. -Bill Hybels
A staff culture will only ever be as healthy as the organization's leader wants it to be. -Bill Hybels
You have to step out in faith even when you are vibrating in fear. -Bill Hybels
Leadership is getting more out of people than the science of management says you can. -Gen. Colin Powell
Trust is the glue that holds an organization together and the lubricant that keeps it moving forward. -Gen. Colin Powell
If you want to be a great leader, take care of your troops. -Gen. Colin Powell
Execution – not planning – is the most important part of leadership. -Gen. Colin Powell
Management is a ministry. -Patrick Lencioni
Ask more questions. Bark fewer orders. -Liz Wiseman
At the top of the intelligence hierarchy is not the genius but the genius-maker. -Liz Wiseman
Sometimes when we lose our title, we gain our character and our usefulness for God. -Chris Brown
Insecure leaders need that title and position, but a secure leader will pick up the towel and serve. -Chris Brown
Shared leadership is not for every leader. This is only for those who want to be great. -Chris Brown
Let us not love with words or speech but with action and in truth. -1 John 3:18
Don't live someone else's calling; it will come off like a bad Elvis impression. -Bob Goff
If you want to be a great leader, see people for who they are becoming. -Bob Goff
God wants to blow your mind! -Bob Goff
When I hear "no" all I hear is N.O. – next opportunity. -Mark Burnett
Choose your your companions before you choose your road. -Mark Burnett
The bible is the greatest love story in the history of the world. -Mark Burnett
Leadership is intentional influence. -Joseph Grenny
Creativity is about ideas. Innovation is about executing ideas. -Vijay Govindarajan
Innovation = idea + leader + team + plan -Vijay Govindarajan
In the absence of love and belonging there is always suffering. -Brene Brown
Love is not a victory march. It's a cold and broken hallelujah. -Leonard Cohen
It's not our job to have all the answers. It's our job to ask the questions. -Brene Brown
If you've never given a sermon and then wanted to leave town, you're not trying hard enough. -Brene Brown
Without failure there can be no innovation. -Brene Brown
Belonging is not a luxury; it's in our DNA. -Brene Brown
It is not the critic who counts; The credit belongs to the man who is actually in the arena, whose face is marred by dust and sweat and blood. -Theodore Roosevelt
You can choose courage or your can choose comfort, but you cannot have both. -Brene Brown
Getting in the area is terrifying, but it's not as scary as getting to the end of your life and what it would have been like if we had. -Brene Brown
Jesus strategy was not to harvest by himself but to first find his leaders. -Oscar Muriu
Leaders don't blame they take ownership. -Dr. Henry Cloud
The hardest thing a leader has to be ridiculously in charge of is him or herself. -Dr. Henry Cloud
Science and the bible always agree in a place called… reality. -Dr. Henry Cloud
Your brain runs on 3 things – oxygen, glucose, and relationships. -Dr. Henry Cloud
The opposite of bad is not good, the opposite of bad is love. -Dr. Henry Cloud
What God wants in you is an "I'll find a way" attitude. -Dr. Henry Cloud
If a guy pulls off his death and resurrection, I'm with him no matter if I understand anything else he says or not. -Andy Stanley
Always give yourselves fully to the work of the Lord, because you know that your labor in the Lord is not in vain. -1 Corinthians 15:58
For more notes and quotes from the 2013 Summit, you can check out my notes from all 13 speakers here.
Which quote resonates with you most?  What were the highlights of the 2013 Summit for you?
And most importantly… if you participated in the Summit, what ACTION are you going to take?