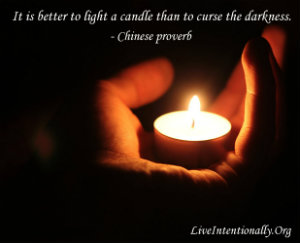 As much as I enjoy 007 movies, no this is not about James Bond or how you like your martinis.
There is a lot of bad stuff that happens in our world – war, famine, disease, abuse, neglect. And perhaps closer to home – rejection, job losses, financial uncertainty, broken relationships, and more.
There are two ways we can respond to it…
We can allow our faith and our hope to be shaken.
We can throw our hands up and say, "Where is God?!? How could He let this happen?!? Life sucks and it's not getting any better!
OR…
We can be stirred.
We can know that there is hope… We are the hope. Ordinary people are making a difference one day at a time, one person at a time.
There's an old Chinese proverb that says…
It is better to light a candle than to curse the darkness.
(Feel free to retweet that or share it on Facebook, Google+, Pintrest or Instagram)
When we see children in Africa orphaned by AIDS will we be shaken? Or stirred to sponsor them?
When we see homeless people in our own country will we be shaken? Or stirred to help?
When we see youth caught up in violence and drugs will we be shaken? Or stirred to mentor?
When we see governments and businesses failing to solve financial problems will be shaken? Or stirred to take action ourselves?
When we face our own frailty in sickness and death will we be shaken? Or stirred to find solace in the God, the giver of life and great healer?
When confronted by your own personal problems or the problems of this world, will you be shaken or stirred?