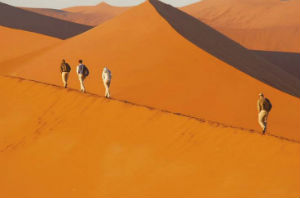 Do you know exactly what you were created to do?
If not, you're not alone.
Occasionally, I see an interview with a person who stands out in their field who says, "I always knew I wanted to be a ___" Fill in the blank – writer, doctor, musician, entrepreneur, missionary, or whatever.  To be honest, I often come away from those interviews feeling a bit envious of their clarity.
Even after 42 years of life and 16 years as CEO of a company I started, I still sometimes wonder what I want to be when I grow up.  (Not that I'm seriously considering changing jobs any time soon.)
That's why Denis Haack's post Discovering Your Calling, Slowly resonates with me.   He writes…
Some people walk through life and discover their calling and gifts as their pilgrimage unfolds. The point is not how fast you uncover such things but whether you are faithful to what you know, to what has been revealed so far. The danger is not missing your calling, but being disobedient, or disdaining your gifts because you'd prefer something else. It's a good formula for becoming increasingly bitter about life.
Many of us were not created for a singular, highly-focused purpose.  We may have several smaller callings.
We may also have a clear calling for a season and then find ourselves meandering through the desert wondering what God has in store for us next.  That meandering phase doesn't necessarily mean we're lost and certainly doesn't mean God has abandoned us.
Sometimes God leads us on the long and windy road to exercise and strengthen our faith, to see if we'll trust Him when the future is unclear, to see if we want Him even more than we want clarity of purpose.
Sometimes we have gifts and passions we never knew we had.  Sometimes they have to be discovered through trial and error, by taking a risk and trying something new. Sometimes we stumble onto them when we find ourselves doing something we didn't' plan on doing, but hey it's kind of fun and we may actually be good at it too.
If you're calling is still not clear, pray, be patient, and take intentional steps towards doing things that you seem to have an aptitude for and like doing.
Discuss
Do you know your calling?  If so, what is it and when did you know it was what you are called to do?
If not, what steps are you taking towards discovering your calling?