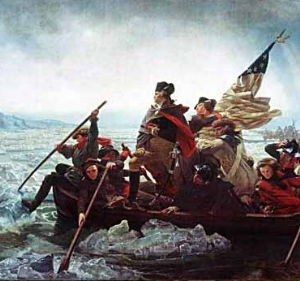 All Pro Dad has a great post up today about George Washington's leadership. The author writes:
Approximately 2,500 American soldiers died in Valley Forge that year.  Why? Yes, these men loved freedom.  But according to historian David McCollough, it was mainly their love for Washington. They would go anywhere with him and do anything for him. They knew how much Washington cared for them and how he put himself in harm's way.  In earlier battles, Washington's two horses were shot out from under him and four bullets passed through his coat. The American soldiers knew this. And bled for him.
What made Washington such a great leader?
He believed in his men.
He was a man of exemplary character.
He placed the welfare of his men ahead of his own.
He was personally invested in the cause.
He was a man of deep faith who demonstrated that via his actions.
For the other 5 qualities that made Washington a great leader, read the full post titled 10 Leadership Lessons from George Washington.
What stands out to you about George Washington's leadership? In what way(s) are you inspired to be a better leader as a result?