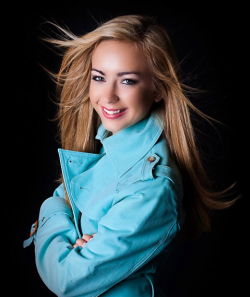 I'm Lauren Marie Galley. I'm 18 years old and I am so excited to launch my new organization Girls Above Society. My Mission is to bring awareness and mentorship to young teen girls facing the tough pressures of today's society.
My Story
My story is exciting in so many ways and I'm thrilled to share it with you in hopes that you will be inspired to make a difference too.
Growing up in the theater from the age of 5 I spent countless hours watching my Mom direct musicals for youth community theaters. I loved the sense of family, meeting new friends and performing for sold out crowds, watching them leave with a smile on their face knowing our job was done, but as I look back what I learned and took away was a sense of dedication, leadership, respect, and self confidence. Those qualities and my passion for everyone to be able to do what they love was the root of Girls Above Society.
My high school years were spent in AP classes, theater, and choir. I was extremely lucky to be surrounded by so many awesome and talented friends. I wasn't the typical high school girl that hung out with the party crowd. Many people tell me I'm like a 30 year old in an 18 year old's body… I laugh, it's true and I'll take that!!
Broadway wasn't my calling and my desire to work in film/TV became a possibility so I took an uncharted path, left high school my junior year, enrolled in college and began taking dual credit classes and fell in love with the business. I have had so many wonderful opportunities and continue to learn and grow from amazing mentors in the business.
I've always loved children and through my middle school and high school years I watched so many teens become followers because of peer pressure that resulted in being bullied, losing self confidence and in many cases reaching the point of depression and suicide. I always wondered how someone could feel so bad about themselves and what I wondered even more was why they let others define who they were. I was lucky, I have great parents who support me and instill the qualities I needed to be confident.
I realized many of my friends were not so lucky… Society defines our vision of what things "should" be. One example : Beautiful models grace the covers of every magazine we see. Young girls feel the pressure to look like these models and they will go to extreme measures to feel validated. Young boys see the images and decide that is exactly what a girl should look like and the vicious cycle begins.
Girls Above Society
I decided I really wanted to give back and make a difference for young teen girls facing the tough pressures of today's society, so I talked to my mentor and acting coach Cylk Cozart about my vision and he immediately said YES! An incredible board of directors was formed and we hit the ground running!! I really wanted to launch a program that would get girls talking to each other about these issues as well as provide educational material while having fun at the same time. I named it "GIRL TALK".
Girls Above Society is very proud to have Cynsings Studios writing, directing, and filming a series based on many of the pressures of today's society. I love sitting with the girls as we view one of the videos, watching their expressions and how relatable the message is to their lives. They begin to realize they are not alone, we all feel the pressures!!
Discussing the video really brings home the need for girls to talk to each other and their family. After the discussion we make a really beautiful "glitter jar" they personally decorate. I remind them that if they are ever feeling stressed, watching the glitter fall helps to calm and allows you to think more clearly. We end our program with a red carpet style photo shoot in front of our Girls Above Society Backdrop!
I really love watching the girls have fun and I get to teach them a little bit about modeling and how to take a great photo they can be proud of. One organization I'm especially excited to work with is Boys and Girls Country. This organization houses 88 school age children on a magnificent facility in Waller, Texas. Most of the children housed at Boys and Girls Country are there due to the fact their parents are incarcerated or are unable to take care of them. I feel so special to touch their lives and give them hope and inspire them to have self confidence to be great leaders in their community one day.
Girls Above Society gives hope and self confidence which will give young teen girls today the power to make decisions that will determine their future by their true beliefs and self worth. In time, my hopes are that we will change society and the pressures put on teen girls will be of a different value. The inside always outweighs what's on the outside in the end…..
I'd love to hear YOUR stories!
Sharing our experiences is just another way to help teen girls realize they are not alone. Visit our website and share your experiences ~ Who knows? You may be helping another young girl get through the tough times! Help us continue production of our wonderful series for our "Girl Talk" through our donation link on our website's Home Page.
I'm Lauren Marie Galley the Founder and President of Girls Above Society…. I'm Making a Difference…One Girl at a Time….