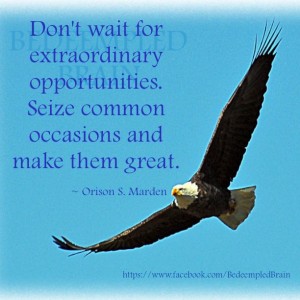 After more than a year of campaigns, billions of dollars of ads, many of debates and countless promises of change, the 2012 U.S. elections are over.
And we are in the place we started.
We have the same president, the same Senate and the same House.
Regardless of who you were hoping to win, if you were hoping for change…
it didn't happen.
The government is not going to create jobs, grow your business, reduce poverty, improve your health, improve education, or make our communities stronger.
But then it really never was going to.
Yes, elections matter. And certainly governments can make systemic changes that can have a signficant impact on our lives. But sometimes polticians and elections can lul us into standing around and waiting for them to create the the world and the life we've always wanted.
Regardless of whether our goverment is good or bad, headed in the right direction or the wrong direction, making things easier or harder…
it's always been up to you and me to create the opportunities and change we want to see.
It's up to you and me to start our own businesses.
It's up to you and me to volunteer in our schools.
It's up to you and me to help our neighbors.
It's up to you and me to pass our values on to our children.
It's up to you and me to rally the people in our communities to strengthen them.
It's up to you and me to guide and encourage others along a spiritual path that leads to life and hope and joy.
It's up to you and me to pursue our dreams and live lives that matter.
So, let's turn off the cable news networks, close the election coverage web pages, and…
go and make it happen!