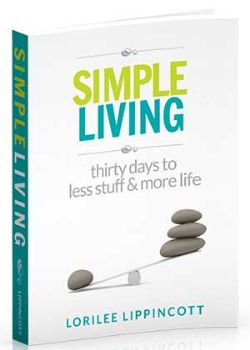 Lorilee Lippincott has just published a new book: Simple Living – Thirty Days to Less Stuff and More Life. Keep reading to learn how you can get a copy for just $0.99 and a tweet to my 60,000 followers.
Summary
Often our lives get filled with clutter, materially, emotionally and in other ways, and this clutter isn't what we need or what we love. Some of it was given to us, some of it we used to need or love, and some of it we think we might need someday. Scarily, there is often lots of clutter we don't even realize we have.
Simple Living was written to help us de-cluttering our lives to make space for enjoying what we love. It's broken down into 30 chapters. Each explains a 1 hour task that helps to simply and de-clutter one area of life – including counter tops  social media, time and even your underwear drawer.
Personal Thoughts
I can personally attest to the destructiveness of clutter in one's life. I'm not at the level where I'm a candidate for an episode of "Hoarders" but I my mindset has always been, "Hey, let's hang on to that because we might need it some day." and "Sure, that sounds good, I can squeeze that into my life." It's left me busy and tired. And most of all I find myself sacrificing time with the people I love doing things I love for running around managing things that are really not that important.
I need to simply and de-clutter and I pleased to have Lorilee's plan and insight as the framework for doing that.
Simple Living breaks the monumental task of simplifying and de-cluttering into bite-sized chunks and provides smart strategies for getting it done.
One small criticism I have of Simple Living is that it seems more written for women than men. About half the chapters/days/tasks have to do with simplifying/organizing areas of the house. Yet there are no day for de-cluttering the garage or the outside of the house. Never the less, I'm still looking forward to going through all 30 days. And maybe I'll add on a few of my own chapters at the end for some manly simplifying projects not covered in the book. 😉
Doing it Together
My wife and I are talking about going through the book together and possibly even doing it with our kids (11, 9 & 5). The more I think about it, the more it seems almost essential. The goal is not just to GET de-cluttered through a one-time clean-out but to KEEP our lives simpler by changing the way we do things.
If one person tries to change his or her habits but their spouse and kids just keep on with their busy, clutter-producing ways, how can they succeed?
$0.99 for a Limited Time!
Lorilee has made the Kindle and PDF versions of Simple Living available this week only for just $0.99. I don't know exactly when that sale ends, so your best bet is to buy it before the end of Saturday. (BTW, one way to simplify your life is just to buy it now rather than putting it off, trying to remember, and then restart the process later).
Get Tweeted!
I want to throw in an extra incentive  If you buy Simple Living and tweet/share this post, I will show my appreciation by tweeting whatever you want (as long as it doesn't conflict with my values) to my 60,000 followers – give you a shout out, promote your book or website, say happy birthday to a friend, whatever you like. Just post a comment letting me know you bought the book and what you'd like me to tweet.