2012 Global Leadership Summit Session 1: Bill Hybels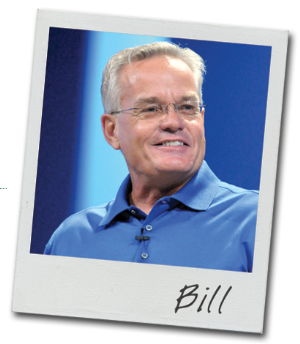 Founder and Senior Pastor, Willow Creek Community Church – South Barrington, IL
Founded The Global Leadership Summit, now in 200+ U.S. sites, 260+ cities worldwide, and 85 countries
Committed to developing and mentoring leaders worldwide, including those in some of the most difficult, overlooked and under-resourced countries
Best-selling author of more than 20 books including his most recent release, The Power of a Whisper
Session Notes 
Luke 8, parable of the sower.
Everyone's life would be better if God was at the center of it.
Man lost his cat on Willow campus and didn't even know it was a church. Bill realized they needed to "sow more seed" and reintroduce themselves to people in the community through a mailer.
Willow started the Alpha course. First class 1/3 of people decided to follow Christ.
Started "Getting Started" after services to introduce people to Willow.
Pastors, your whole church takes its seed sewing que from you.
We must insist on a non-stop series of experiments in our churches to sow more seeds.
Everyone wins when a leader gets better.
Sow more seeds!
The work habits of a leader

You are the most difficult person you will ever lead.
Many leaders have told Bill this is one of their biggest challenge
A leaders most valuable asset is not their time but their energy & ability to energize others.
Bill asked himself what are the 6 biggest things I could accomplish this calendar year (with 6 weeks remaining). Most of them involved energizing. Put those 6 things on an index card. Felt energized by the clarity and focus it brought. Accomplished 5 of the 6.
You can't sprint for 6 months but you can sprint for 6 weeks.
Willow's staff has been operating with 6×6 plans
God didn't make you a leader to respond to stuff all day. He made you a leader to move things forward. 

Succession planning

A high percentage of mega-churches were started by pastors who are approaching retirement.
Willow's succession plan

Phase 1: planning – Who will select successor? Time frame? How will pastor be honored? Will the current pastor continue to have a role? +many others
Phase 2: Want to find an internal candidate
Phase 3: If an internal candidate can't be found, look for an external candidate
Phase 4: Actual succession, ~18 months

Board members – understand how deep feelings run in your pastor. Don't have a person with low emotional intelligence.
Pastors, once you get to your late 50s, understand that your greatest legacy is going to be transitioning the church to your successor.

Moving people from point a to point b, here to there

God didn't make you a leader to preside or pontificate.
Don't talk about "there" until you make the case that staying "here" is intolerable.
When is the vision most vulnerable – beginning, middle, near end? B – middle
As a leader, when have I been most vulnerable? B – middle
Bill is energized to finish his leadership at Willow well.
"What a privilege it is to be a leader"
Savor every day you have the privilege to lead.
What impacted you from Bill's talk?  What action will you take as a result?